Thermoplast
Hamberger Sanitary toilet seats made of Thermoplast
Most of the plastics that we use in everyday life are thermoplastics such as polyethylene or acrylic glass. The material is used in packaging and toys, but also in the form of toilet seats in the home bathroom.

Within the toilet lid market, however, Duroplast is probably the better-known material. Alongside the large selection of Duroplast toilet seats, our Thermoplast seats also convince consumers of their advantages.

As a manufacturer of high-quality toilet seats, we recognised these advantages early on. At the start, we made our toilet lids exclusively out of wood. In the year 1950, we expanded our range with lids made of Duroplast. In the year 1999, we achieved a game-changing upswing through toilet seats made of Thermoplast. After all, these models compensated for various disadvantages of wood. At the same time, this toilet seat material combines qualities like elasticity and resistance to breakage with low manufacturing costs. This was crucial for the production of low-cost toilet lids. This enabled us to make high-quality toilet seats just as accessible to our customers as to a price-conscious market.
What is Thermoplast?
To understand the pros and cons of toilet lids made of this material, let's take a look at its composition and central properties:

Just like Duroplast, Thermoplast is also a polymer. Because of the arrangement of the molecules, though, thermoplastic synthetic materials exhibit clear differences from duroplastic synthetic materials.

In contrast to the latter, the individual molecular chains in thermoplastic synthetic materials are not cross-linked and are bound less strongly to each other. This makes it easier to reshape the material – particular when exposed to high temperatures. As the name already suggests, the raw material is thermoplastic. This means that it can be melted at high temperatures. Even when it cools down, no crosslinking of the molecular particles occurs. The material does not cure but rather sets when it cools down. This means that it can always be melted again and formed into a new shape.
What advantages do toilet seats made of Thermoplast have?
When buying a new toilet seat, more and more people are turning away from wood and MDF, instead choosing a model made of Thermoplast. Toilet seats made of this special material have thus already made their way into many private bathrooms. Thermoplast seats are, however, found very frequently in restaurants, hotels and public toilets. The following material properties speak in favour of both private and commercial use of toilet seats made of thermoplastic synthetic materials:
Break-proof and nearly indestructible
As soon as Thermoplast sets, the material, and thus also the toilet seats made from it, prove to be extremely stable and resistant. Although the toilet seat material is less hard and scratch-resistant than Duroplast, it is very tough and elastic, making it practically indestructible. Even when chemical cleaning products are used, these models prove to be extremely resistant.

This is why thermoplastic toilet seats are particularly suitable for frequently used toilets in public facilities or for toilets in the hotel and catering industry. In addition, the material is also popular for use in family toilet seats with a smaller, integrated child seat. But even in classic versions, these toilet seats will reliably withstand various stresses for many years. This makes them a worthwhile investment.
Hygienic and easy to clean
The very smooth surface of Thermoplast seats makes cleaning the toilet seat and lid really easy. Residues are easy to remove using neutral soap or a mild and natural cleaning product. The smooth surface of the seat offers another hygienic advantage: The polyolefin thermoplastic seats are largely inert, making them resistant to the attack of microorganisms like bacteria and fungi. This means that the toilet seat offers them no breeding ground, making it perfect for preventative hygiene.
Environmentally friendly and recyclable
Our Thermoplast seats are 100 per cent made of polypropylene, making them completely recyclable according to their parts. Thermoplastic polypropylene is environmentally neutral in landfill and when incinerated. It is, however, still important to dispose of the toilet seats correctly.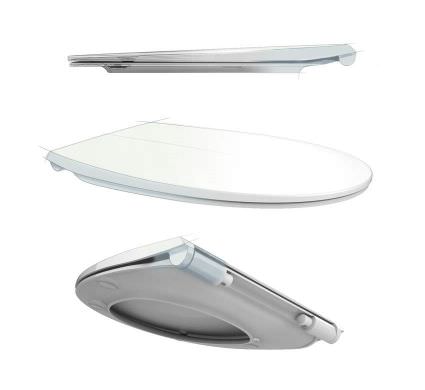 Range of colours and design
With toilet seats made of Thermoplast, you can offer your customers a wide range of different designs. After all, the polymer can be shaped as desired when exposed to heat. This means that seats made of this material are available in the common standard shapes, square and round, and in the popular D-shape. On top of that, the material can also be dyed many colours. As well as classic white, striking colours are also available. With our toilet seats made of Thermoplast, you can meet your customers' visual requirements and thus find the right lid for every toilet and bathroom. Read more here about our holistic toilet seat design and explore our large range of toilet lids in different shapes and colours.
Inexpensive alternative in top quality
Like all our products, our toilet lids made of Thermoplast also meet our high quality standards. And although toilet seats made of this raw material are regarded as an inexpensive alternative, here too we also promise the best quality and an attractive look and feel. After all, we also install our hinges made of high-quality stainless steel in our Thermoplast seats. In addition, these lower-priced models are also fitted with our patented comfort features. Many models thus have our SoftClose® automatic closing system and the practical TakeOff® hinges for a removable lid and seat. Read more here about our quality management and the comfort features of our seats.

There are many criteria that make an ordinary toilet seat an amazing toilet seat. Above all, what counts are the raw materials and the art of engineering something special out of them. There stopped being a commonplace standard on the toilet lid market a long time ago. This is because different models made from different materials are possible, depending on personal taste and the demands placed on the toilet lid. We recommend our first-class toilet seats made of Thermoplast for use in highly frequented toilets in particular, but also for private bathrooms. The lower price and ease of cleaning as well as the seating comfort and the absolutely break-proof surface all speak in favour of toilet lids made from this material.