Care
Hygienic, comfortable and age appropriate:
Our special Care seats for special requirements
For many people, going to the toilet safely is just a matter of course. But visiting public toilets is not always without risk. Especially for older and physically disabled people, even visiting the toilet in the bathroom at home involves certain risks.

But this is now a thing of the past: With the special Care seats from our CareLine, it's easy to meet the special requirements of older people and live up to the demands of highly frequented sanitary facilities. The various hygiene and comfort features in this product series make visiting the toilet more hygienic, comfortable and age appropriate. This is because our CareLine contains toilet seats with the antibacterial ACTIVE SHIELD surface protection and our HAROMED toilet lids with a practical raised seat.

Add our CareLine products to your range and help your customers meet special requirements.
ACTIVE SHIELD for preventative hygiene
High frequency of toilet and toilet seat use also increases the risk of bacteria. This must be taken into account especially for public sanitary facilities and for toilets in social institutions such as hospitals or nursing homes. Because the higher the average user frequency of the sanitary facility, the more important the hygienic safety.

As a manufacturer of high-quality toilet seats, Hamberger Sanitary is aware of these particular challenges. This is why we developed our antibacterial seating surface protection ACTIVE SHIELD. We assimilate this in the production of many CareLine toilet seats made of high-quality Duroplast. Thanks to antibacterial additives in the plastic, germs and bacteria cannot multiply on the toilet seat; instead, they are reliably killed. The protective layer is also skin-friendly and odourless. And of course, this protection does not impact on either the hardness of the coated surface, or on the robustness or colour of the material. Thanks to the antibacterial ACTIVE SHIELD, our high-quality CareLine seats offer reliable protection on smooth surfaces. This way, you can easily surpass regular standards. For planners, architects and buyers, this opens up the possibility of minimizing hygiene risks from the outset.
HAROMED: For increased independence and mobility
Mobility and independence in your own bathroom is important for quality of life, especially for seniors and physically disabled people. We make a significant contribution to this with our HAROMED toilet seats. This is because they offer a new barrier-free toilet seat solution with well-developed technical details for the best seating comfort, mobility and safety.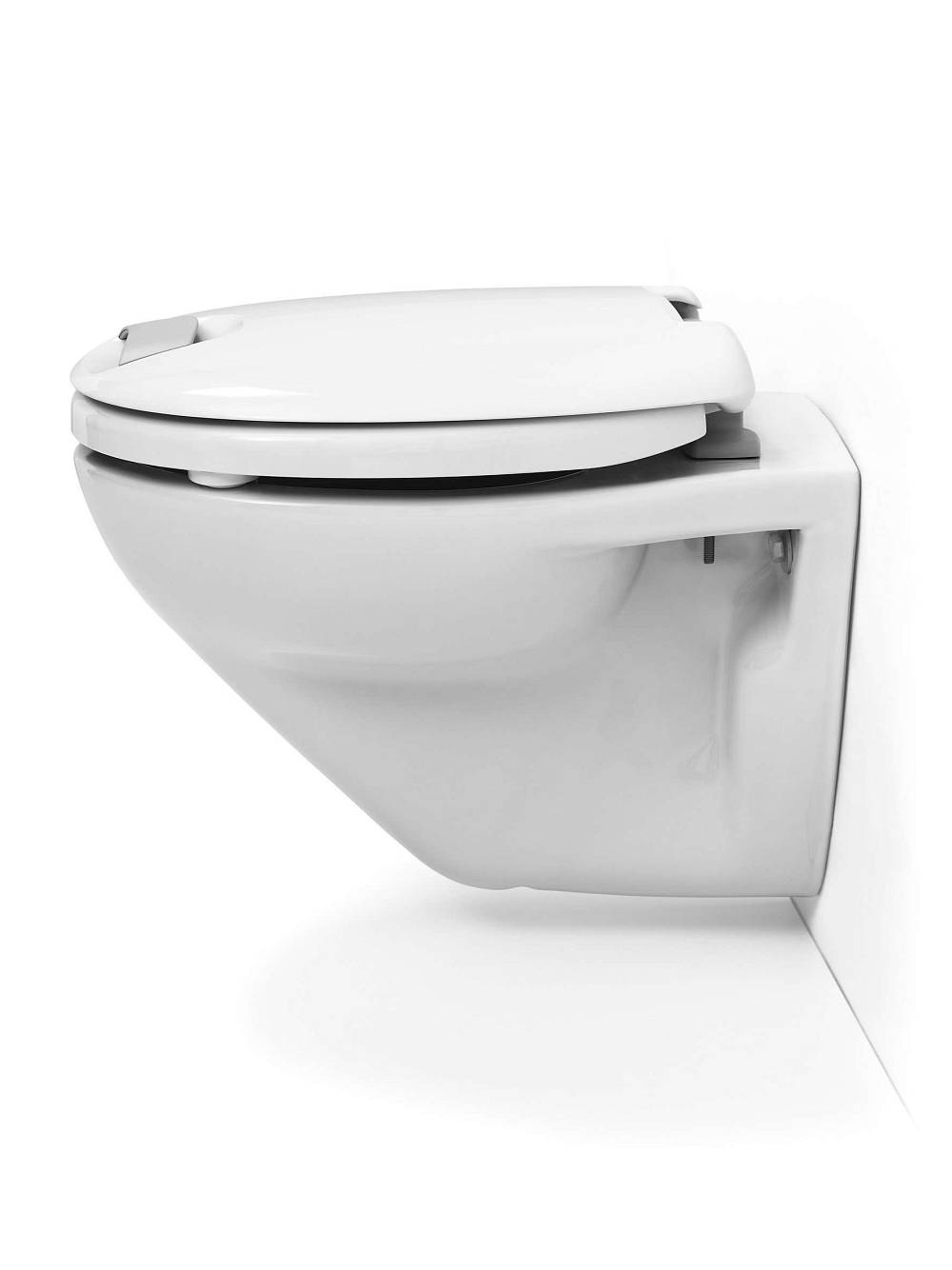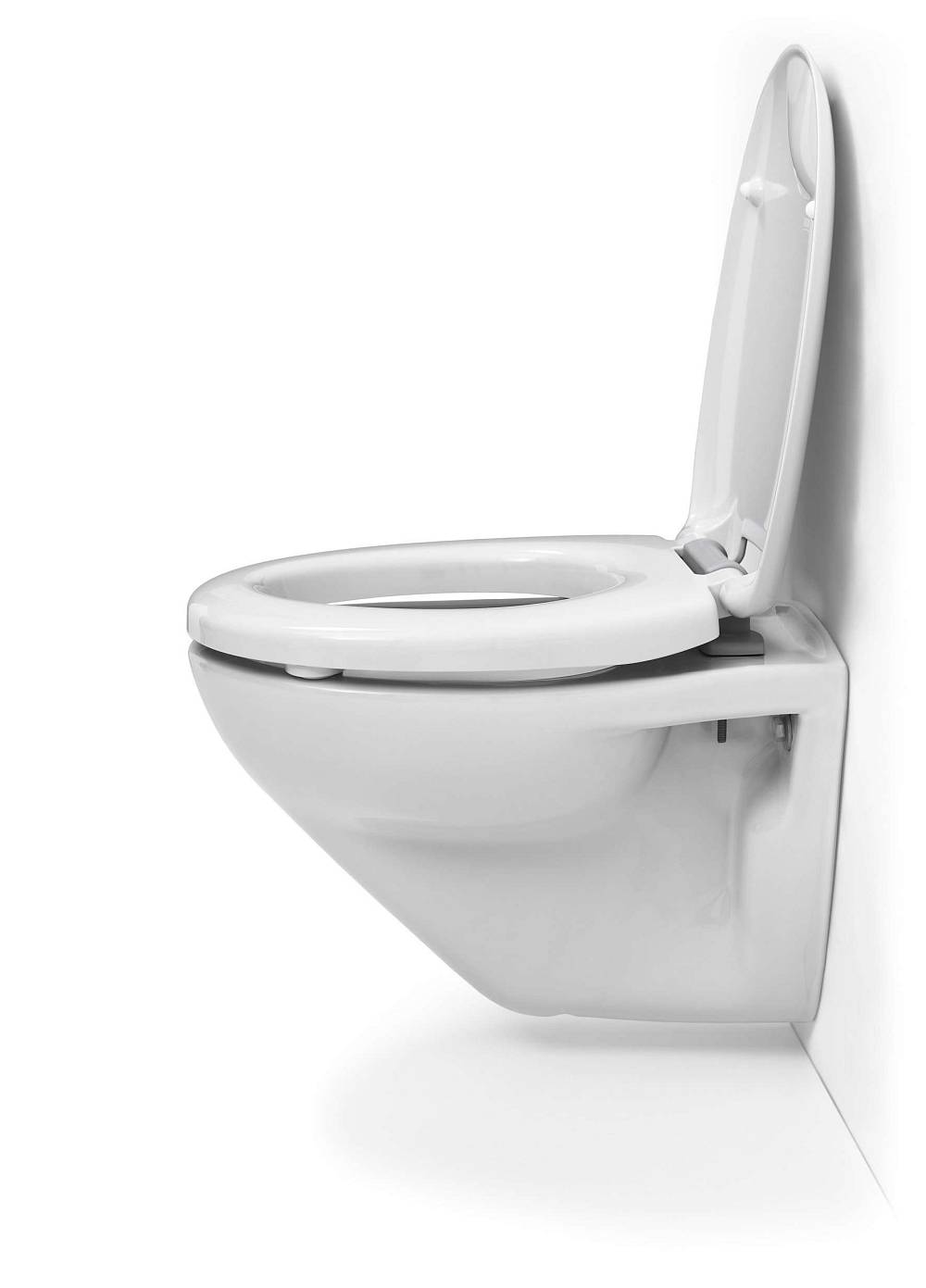 Comfortable sitting angle thanks to the higher sitting position
We have added 5 cm to the standard DIN measurements for toilet seats, thus achieving a higher sitting position and a comfortable sitting angle of 98°. This is the optimal height especially for seniors. The elevation makes it easier to sit down and stand up, and facilitates firm seating. Neither an additional toilet attachment nor further aids are needed for this.

What's more, our elevated lids are also suitable for toilets with longer dimensions. Without a automatic closing system, the elevated toilet seat is available with unlimited opening angle. But even with a automatic closing system toilet seat, an opening angle of up to 110° is possible.

Thanks to this raised toilet seat with a wide opening angle, physically disabled people can finally sit comfortably again.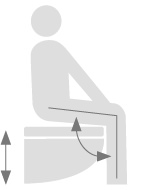 Special details for a barrier-free bathroom
People who rely on a bit of support in everyday life know which details make a toilet seat really age appropriate: Suddenly, sturdy hinges, additional seat buffers or, in particular, easy-to-clean surfaces become important qualities of a higher seat. Our raised toilet seats offer all that and much more.

Our raised seats are fitted with our heavy-duty SolidFix® stainless-steel hinges and robust seat buffers. These make the elevation particularly stable and provide reliable lateral support.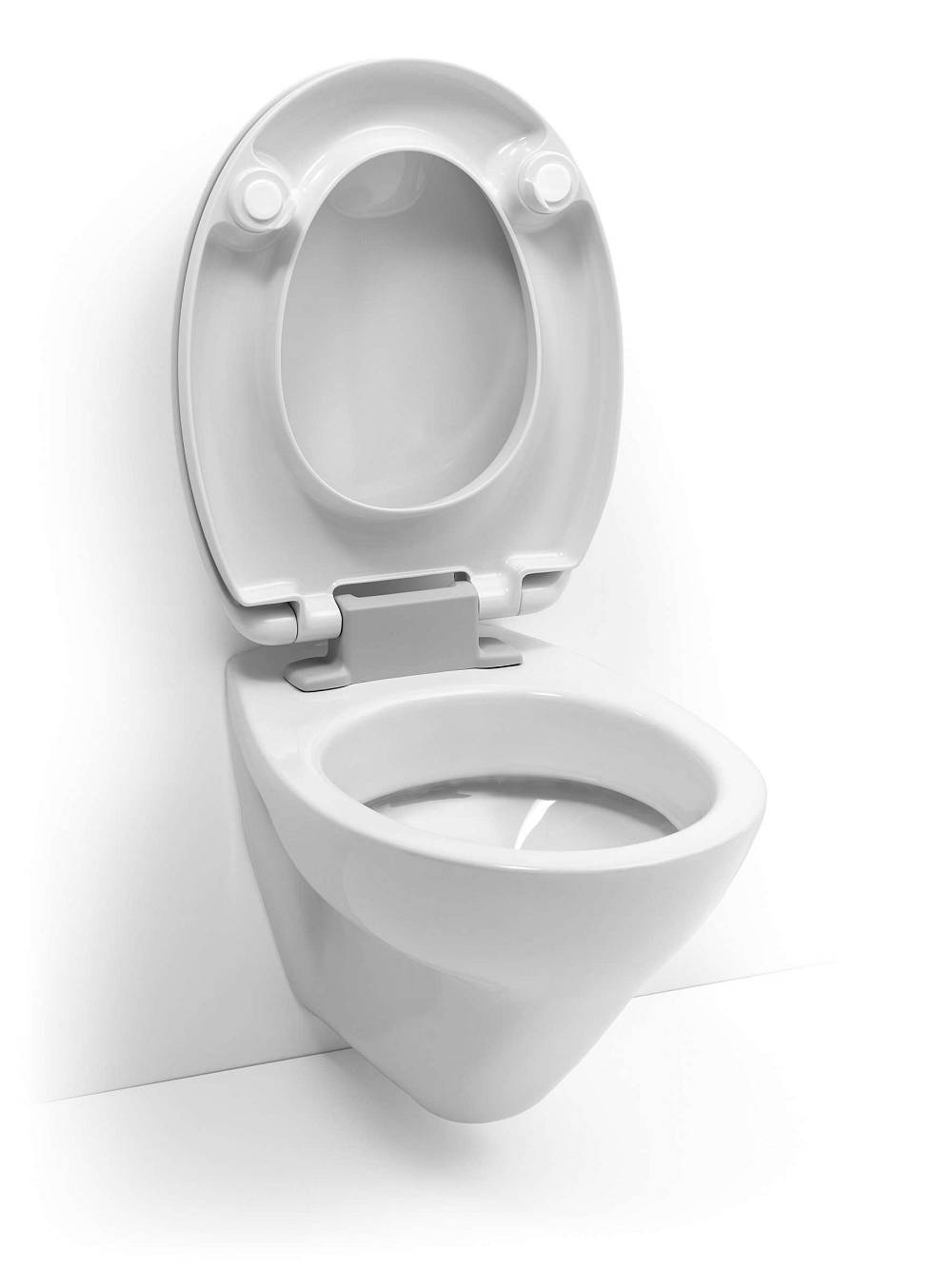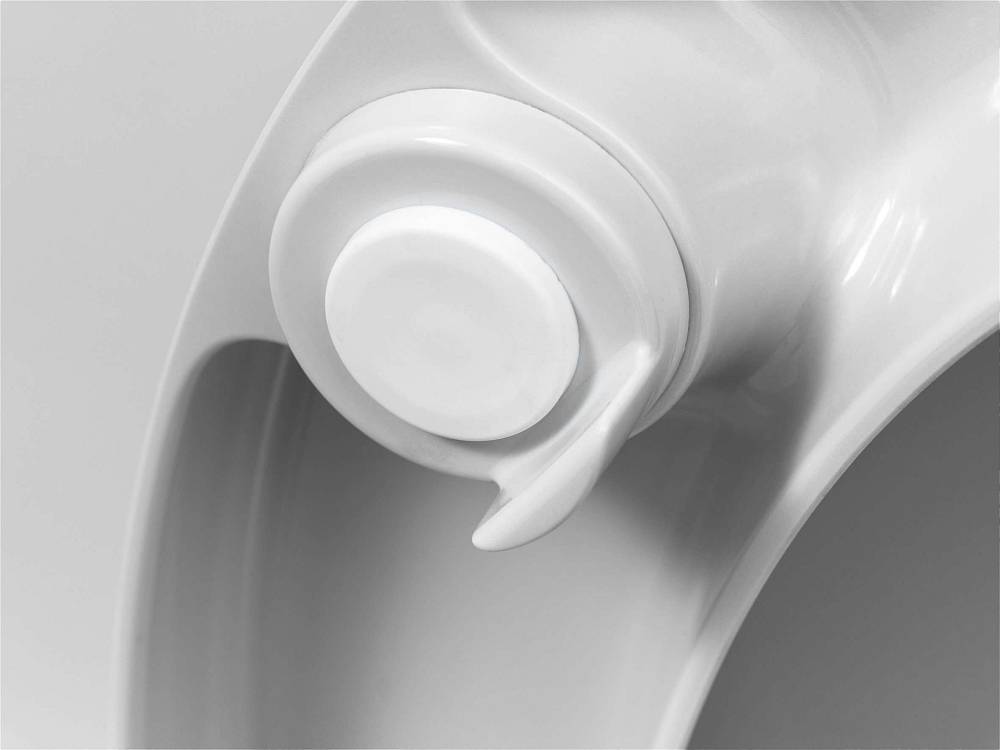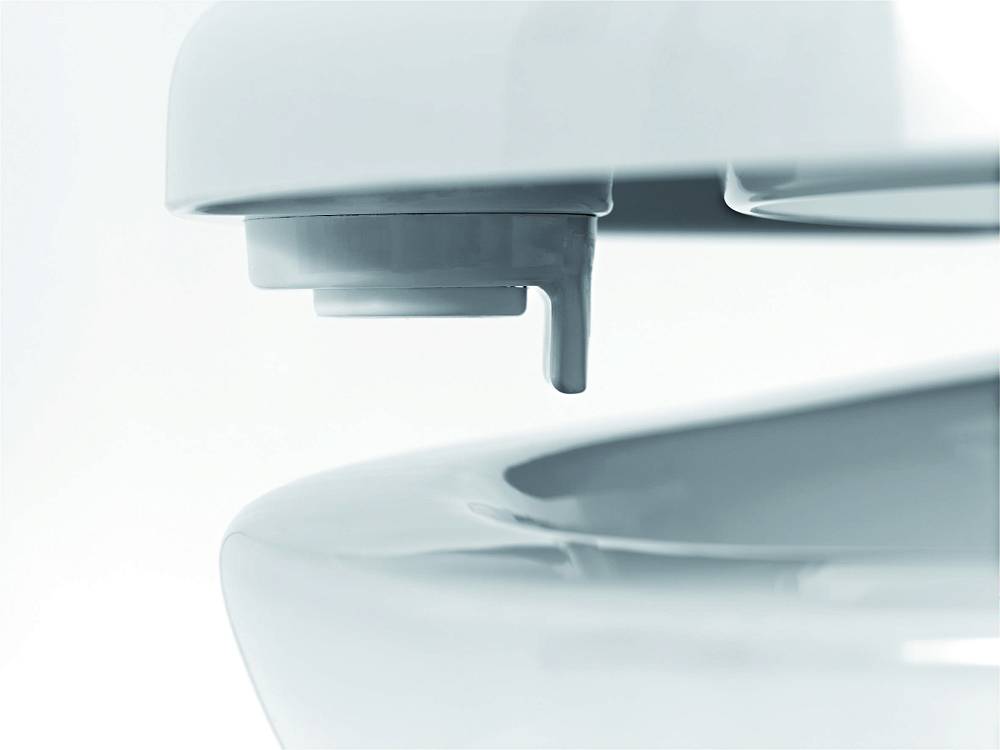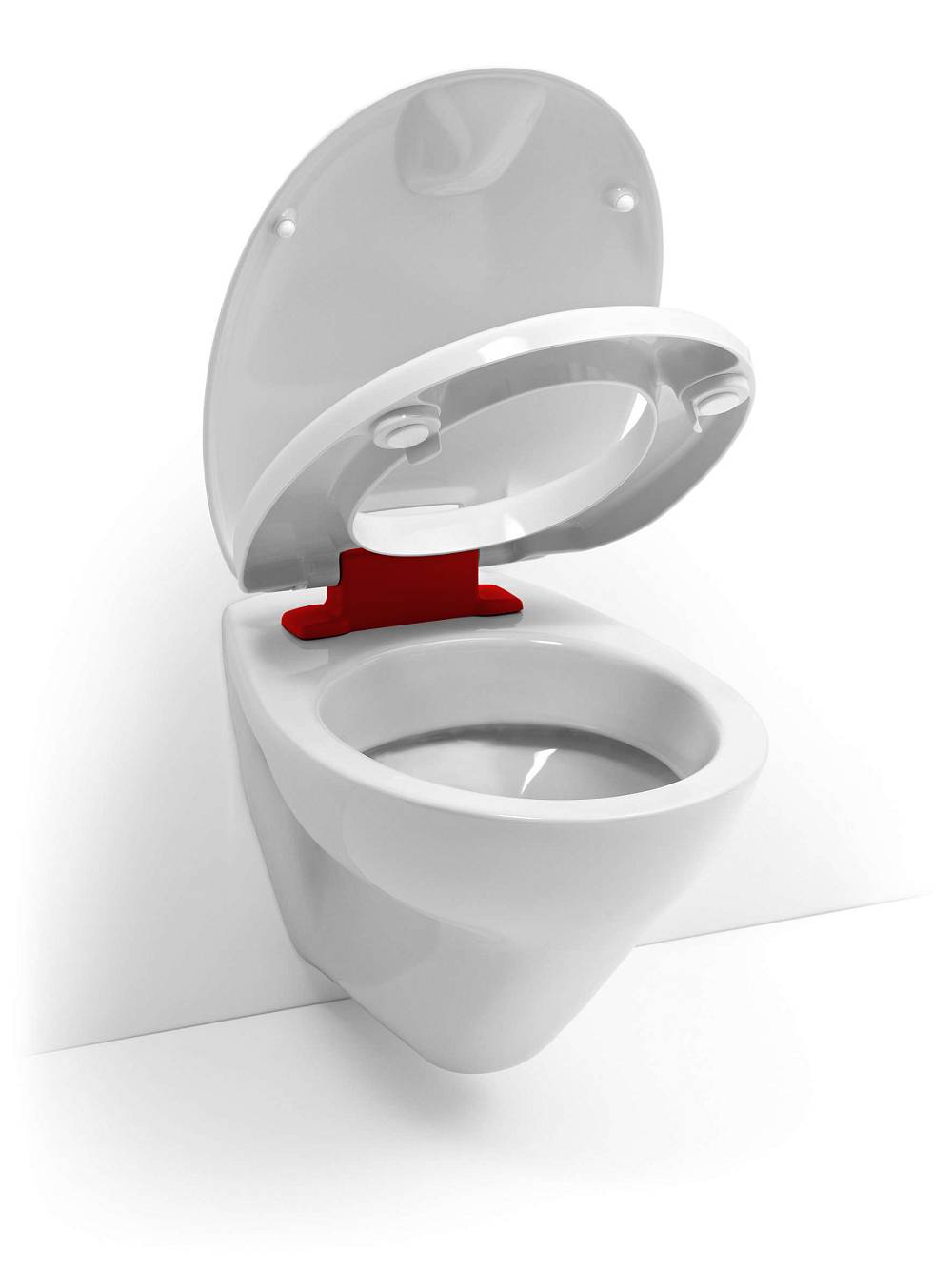 Additional stability handles are a necessary detail for wheelchair users, making it easier to move from the wheelchair to the raised toilet seat. To make it easier to see in case of visual impairment, the white lids are available with different handle colours such as blue, red and grey.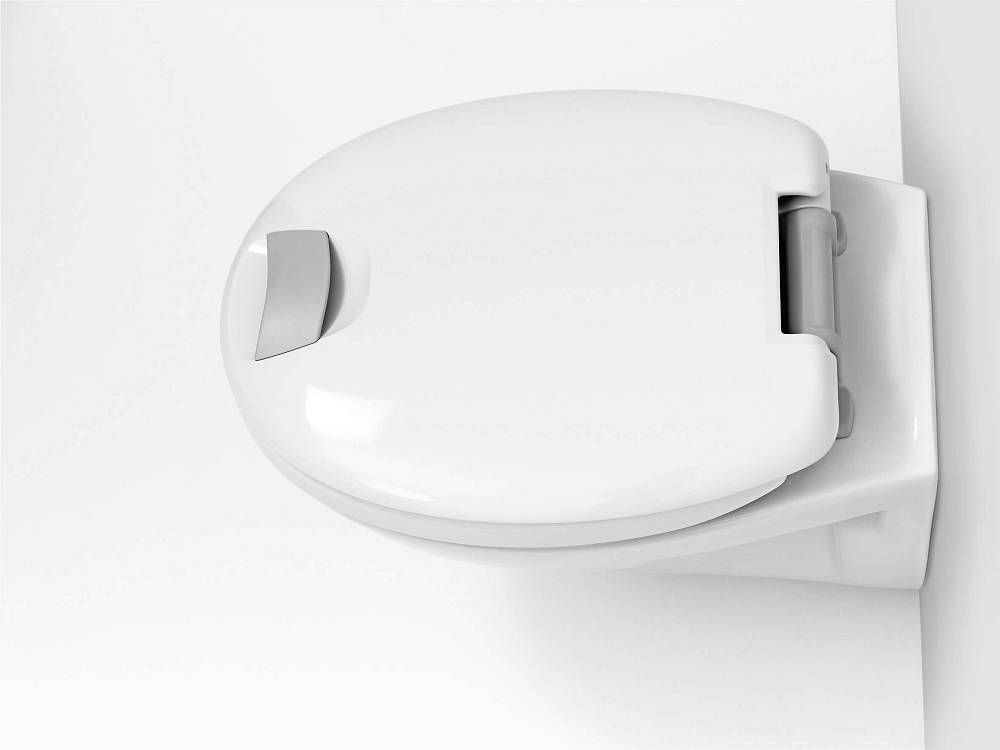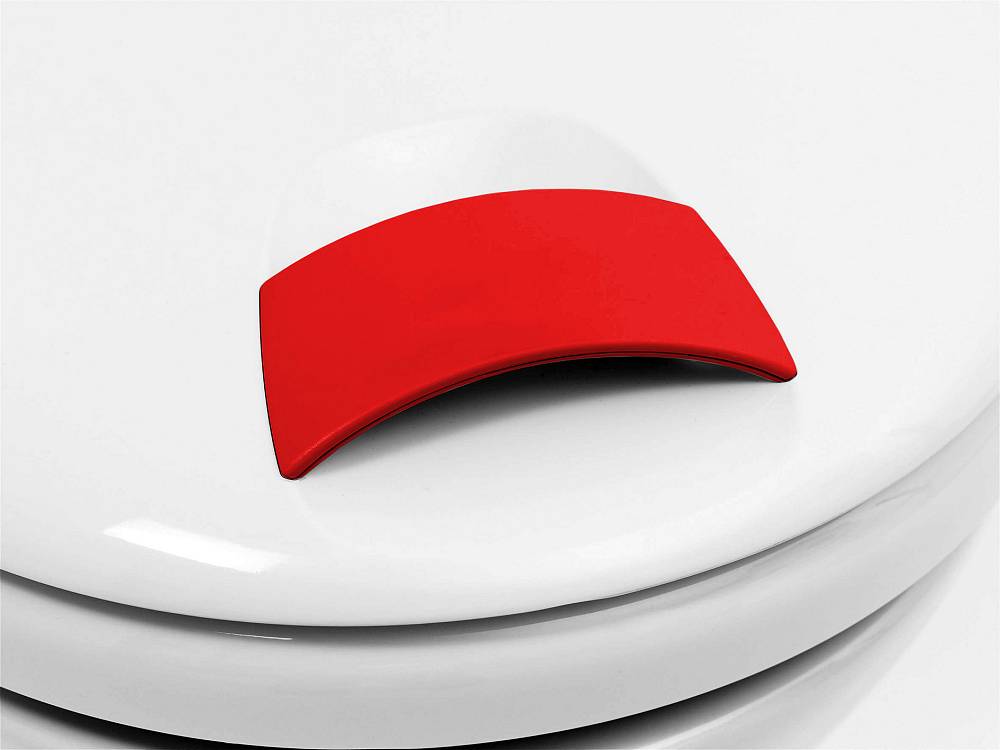 Many of the raised toilet seats have our ACTIVE SHIELD technology for antibacterial surfaces. For even easier use, most of the raised toilet seats also come with our patented SoftClose® automatic closing system. With a simple tap, the toilet lid closes gently and automatically.

You can find more information about our comfort features here.
Attractive design instead of medical supply shop chic
We think attractive design is just as important for our raised toilet seats as it is for all our other models. This is because the austere "medical supply shop chic" is completely passé.

The HAROMED toilet seats arose through the close collaboration of Hamberger Sanitary with seniors and people with restricted mobility. The result is an innovative toilet seat that meets different needs and thus provides satisfactory accessibility in the home bathroom.

The classic shape of the lid and different colour combinations ensure an attractive look. The robust surface is made of the high-quality material Duroplast and is therefore really scratch-resistant and robust.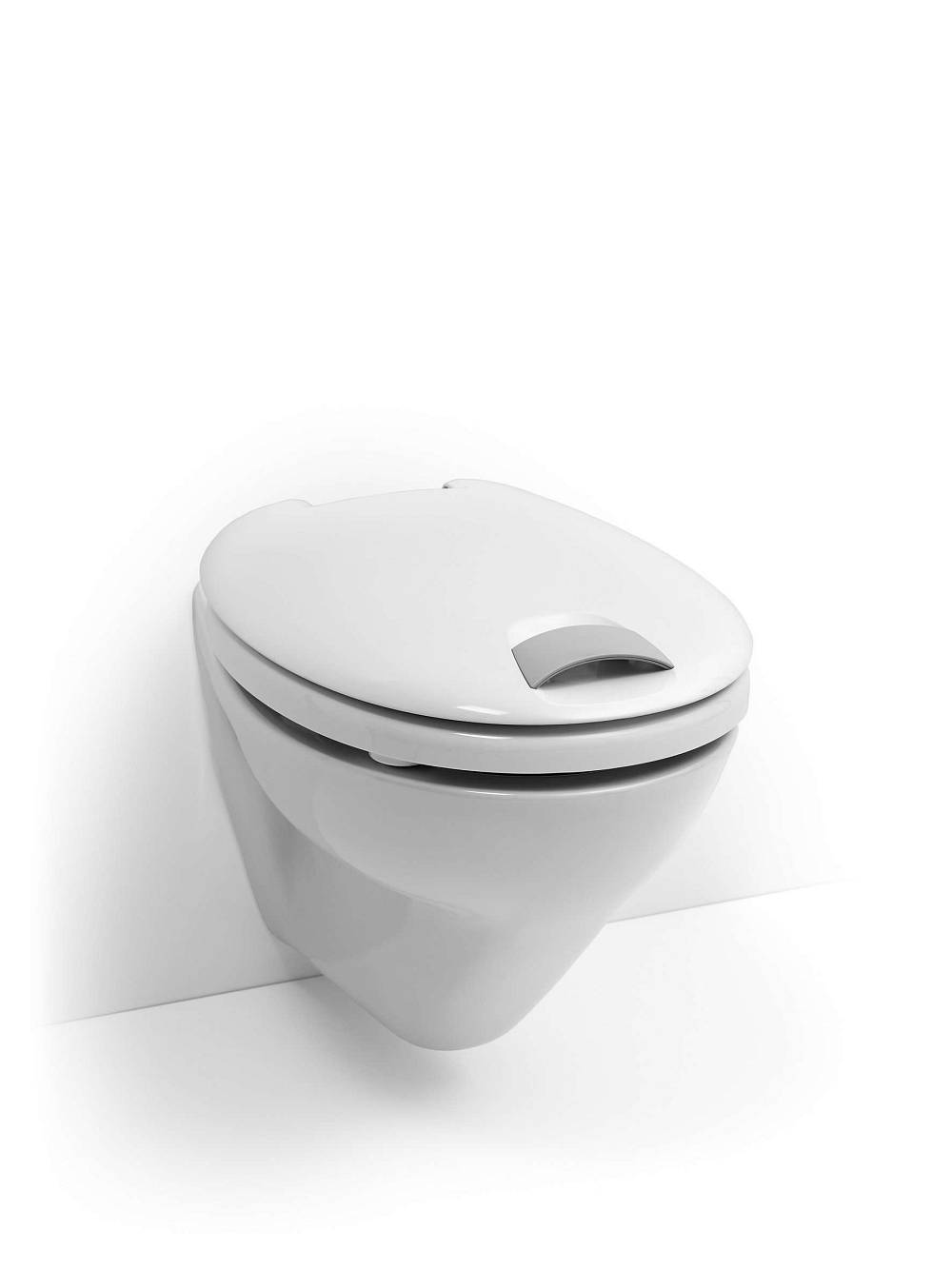 The advantages of the HAROMED toilet seat at a glance:
A seat elevation of 5 cm makes it easy to sit down and stand up.
The ergonomic shape of the toilet seat guarantees comfortable seating.
Our patented SoftClose® automatic closing system facilitates easy and convenient closing of the toilet seat.
Our ACTIVE SHIELD provides antibacterial surfaces and preventative hygiene.
High-quality stainless steel hinges and reliable seat buffers guarantee stable seating.
A convenient opening handle and an additional stability handle increase accessibility in the bathroom. This makes it easier to move from the wheelchair to the toilet.
The raised toilet seat will impress you through their classic rounded shape and different colour combinations with an attractive look.
Different handle colours in blue, red or grey make it easier to see the stability handles in case of visual impairments.
The high-quality, tough material Duroplast guarantees the reliable durability of the seat.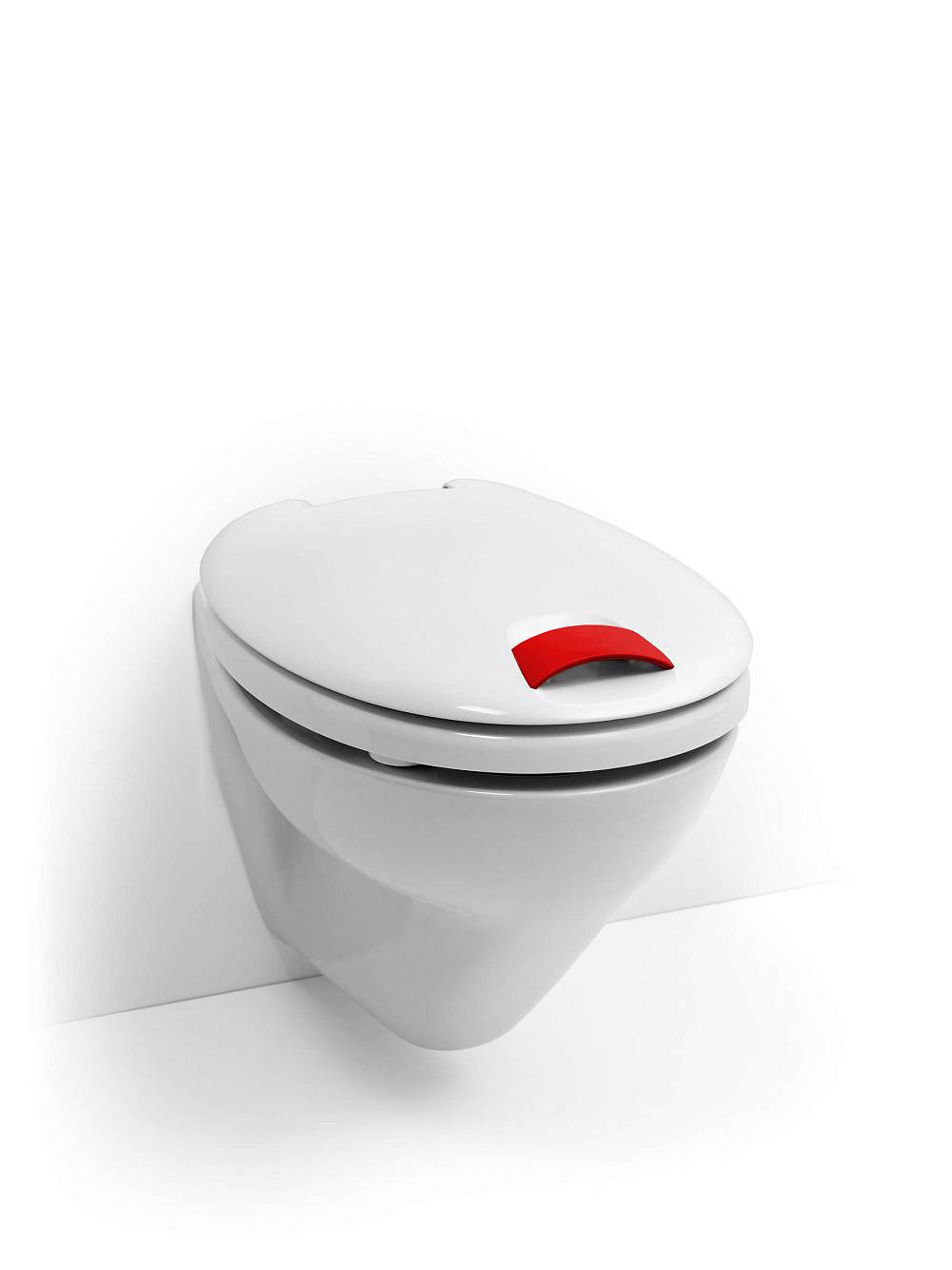 That extra bit of comfort and safety
Hospitals, social institutions or the home bathroom: Anywhere that comfort and safety play an important role, end users place particularly high demands on toilet seats. In particular focus here are load-bearing capacity, ease of cleaning and hygiene. So that our CareLine models can reliably meet these special requirements, they are developed taking into account all these challenges and thoroughly tested.

The toilet seats in our CareLine meet the strict DIN standard 19516 for toilet seat requirements and test methods. For especially reliable stability, all the seats in this product line are fitted with particularly strong hinges made of stainless steel or plastic. Apart from this, all lids and seats are regularly subjected to quality assessments and the toughest load tests in our laboratory.

Tested load-bearing capacity, ease of cleaning and reliable hygiene – everyone benefits from this. Our CareLine offers a high degree of safety for designers, architects and buyers in the specialist sanitary equipment trade and in DIY category management. This means that you can easily meet all the tender criteria when bidding for public furnishings. With these special toilet seats, operators of hospitals, nursing homes or other facilities are able to preventatively eliminate all hygiene risks. And this product series affords seniors and physically disabled people a new measure of independence and autonomy.