New toilet seat
What should you look for when buying a new toilet seat?
Of course, not every toilet seat is the same. If you want your toilet lid to last a really long time, you should pay attention to the quality and durability when making a purchase. But there are other details that should be taken into account when buying a new toilet seat. The following are also important:
The right toilet seat shape
As well as the size, the shape of your new toilet seat must of course also be right for the toilet. Although a square toilet seat may have the same measurements as an oval seat, it won't fit perfectly on an oval toilet. If the shape of the toilet seat doesn't match that of the toilet, it won't just be visual dissonance that is created. There will also be limitations on the fit and how comfortable it is to sit on. So when you're buying a new toilet lid, make sure that you choose a seat shape to match the ceramics. Our HARO and Cedo brand toilet seats are naturally available in the standard oval and square shapes as well as in the popular D-shape (also called the U-shape). Furthermore, we adapt the shape of our toilet lids to regional specifications and also produce seats for pointed, round and long toilets.
Oval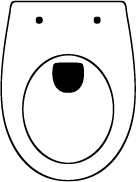 oval narrow back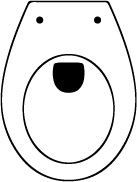 short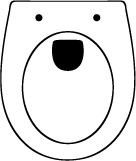 D-shape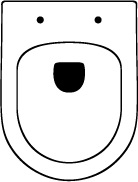 pointed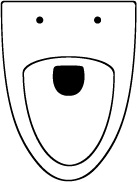 square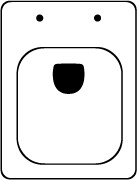 The right size
One of the most important factors of a toilet lid is how comfortable it is to sit on. Alongside the ergonomic shape of the seat and its material, it's also important that it has a firm hold.

That's why it's important that the new toilet seat really fits your toilet. Many toilet seats are described as universal. These models mostly fit toilet seats with classic dimensions. Before you buy a toilet seat like this, though, you should definitely check if you own such a model. In many bathrooms, for example, extra-short toilets are installed to save space. If you try to install a universal toilet seat here, it will stick out at the front.

In order to buy the toilet seat in the right size without a doubt, we recommend that you measure the toilet beforehand. In particular, measure the length, width and the distance between the toilet seat's fixing holes.

To take each of the measurements

Measuring the distance between the fixing holes: To determine the distance between the fixing holes, measure from the centre of each hole. Here you have a slight margin for measurement error. This is because there are variable hinges that can be individually, progressively adjusted to the existing fixing holes.

Length: Lay a folding rule or tape measure between the two mounting holes and measure the distance from here to the front edge of the toilet.

Width: Determine the width of the toilet lid by measuring the distance between the outer edges of the toilet rim at its widest point.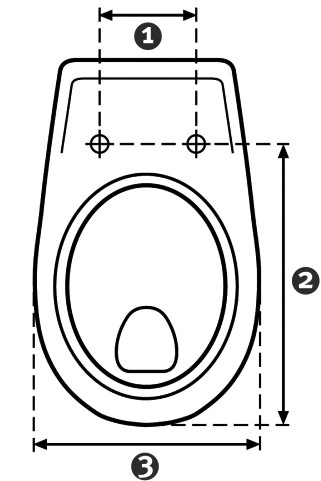 The right fixing
When buying a toilet seat, be sure to pay attention to the kind of fixing, too. It must match the installation options offered by your toilet seat. There are two different kinds of fixing.
With most toilets, the toilet seat is fastened from the bottom. The hinges are inserted into the existing holes from above and then screwed tight from below. This is only possible if your toilet can be accessed from the bottom.
With some toilets, however, it is only possible to fasten the toilet seat from above. If your toilet is completely closed at the bottom, it's not possible to fasten it from the bottom. If this is the case, you definitely need to ensure that a special top fixing is possible when you buy your new toilet seat.
We provide various hinges and installation solutions for different toilets and toilet seats. Take a look at our wide range and learn about the different ways of mounting.
Convenient comfort features
As in many areas of everyday life, comfort plays an important role when visiting the toilet. When buying your new toilet seat, look out for practical comfort features that make day-to-day life easier:
The automatic closing system has now practically become a standard feature of convenient toilet seats – and this is true of our models, too. The special dampers in our patented SoftClose® automatic closing system toilet seat allow the toilet lid to close quietly and smoothly with just a tap.
But it's not just comfort that is important when it comes to using the toilet seat. For questions of hygiene, too, a special detail offers practical advantages: Thanks to our TakeOff® feature, the toilet seat can be put on and taken off with a single hand. This means that even hard-to-reach places can be cleaned quickly and easily. Cleaning the toilet seat becomes child's play with just a few simple movements and without the need for any tools at all.
High-quality material
Alongside practical convenience features, the material also contributes to the comfort factor of the toilet seat. Low-cost models are often made of polypropylene. Despite its advantages in terms of flexibility and resistance to breakage, the material is more delicate and scratches easily. Duroplast is a very high-quality material for toilet seats. Toilet lids made of this material have a particularly high-quality, ceramic-like appearance and feel comfortable to sit on. On top of this, the material is extremely scratch resistant and durable. Special material properties also ensure germ-inhibiting toilet seat surfaces. Read more about the advantages of the different materials that we use for our toilet seats here.

When buying a new toilet seat, you'll always find the right choice with our products. Our extensive modular system includes toilet lids in different shapes and sizes. This enables us to provide the right toilet seat for all common kinds of toilet. The same is true of our hinges and installation solutions, which we manufacture ourselves. Apart from this, we produce our high-quality toilet seats from verified materials and equip them with convenient comfort features.