Comfort features
What makes a good toilet seat?
There are many kinds of toilet seat: Square and round, classic and modern, monochrome and colourful. There is a vast array, and yet it's often difficult to find the right toilet seat. So as not to lose perspective when searching for the right toilet lid, we will show you which factors make a toilet seat a good one. The following are also important:
various comfort features,
the material,
stability and flexibility,
the design, and
the quality and durability of the toilet seat.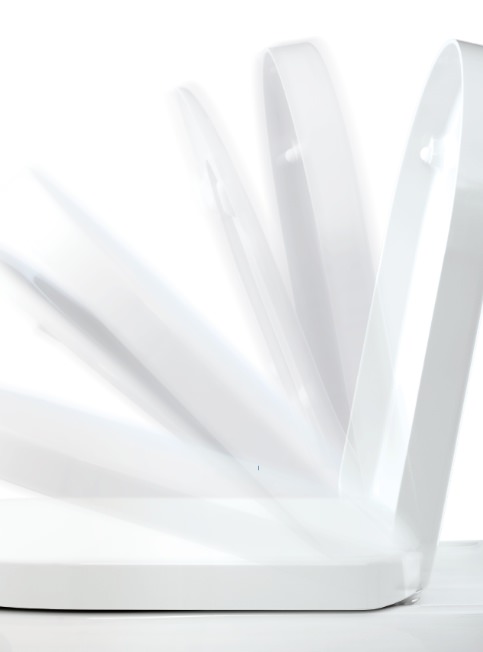 Comfort features
What makes for a comfortable toilet seat?
When we talk about the comfort of toilet seats, we don't just mean that they feel nice to sit on; more than anything, we also mean certain features that make the entire toilet experience more pleasant and comfortable. For this reason, our toilet seats are furnished with various comfort features: the patented SoftClose® automatic closing system and practical TakeOff® hinges.
SoftClose® automatic closing system toilet seat
Anyone who has once experienced the convenience of a automatic closing system toilet seat will never want to do without it again. Thanks to special dampers, our toilet lids with the automatic closing system close gently and quietly with just a tap. This is gentle not only on your nerves but also the toilet. Our toilet seats with the patented SoftClose® automatic closing system mean you can say goodbye to toilet lids that bang shut.

Read more about our SoftClose® automatic closing system and quiet convenience in the bathroom.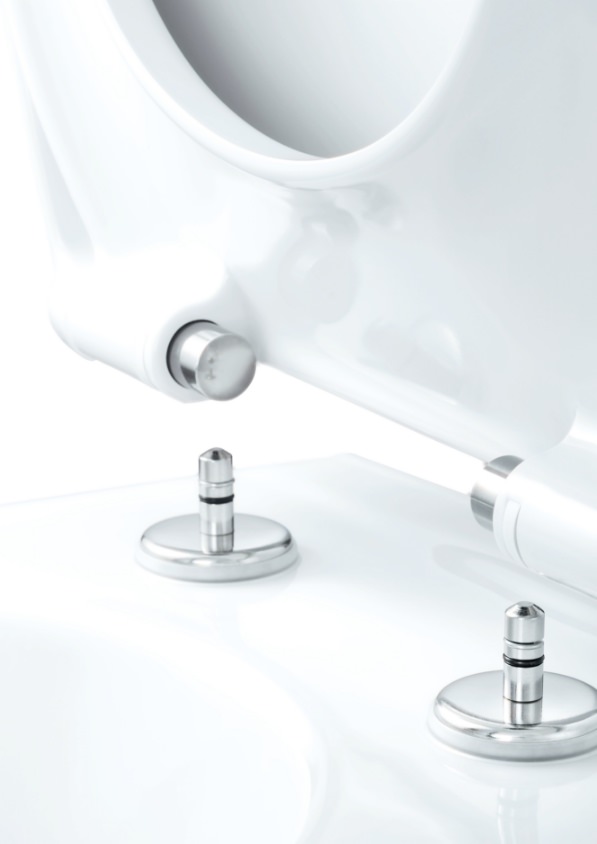 Our patented TakeOff® feature combines convenience with easy hygiene. Thanks to practical plug-in hinges, these toilet seats can easily be removed and put back on again with one hand and without the need for any tools. This makes it easy and convenient to clean not only the toilet seat and lid, but also hard-to-reach parts of the toilet. Replacing the toilet seat is also easy thanks to the practical hinged connection. Our toilet seats with the TakeOff® feature are the perfect solution for anyone that values thorough hygiene. You can find more information on our patented TakeOff® feature for removable toilet seats here.
Material
What should I look out for in the toilet seat material?
The toilet seat material has a big influence on its look and feel. This is why it is also a key criterion for a good toilet seat. Our toilet seats are made of scratch-resistant Duroplast or break-resistant Thermoplast. Both plastics are excellent for use in toilet seats. They are impressive for their stability, durability and best hygienic qualities thanks to a non-porous surface. Apart from this, toilet seats made of Duroplast and Thermoplast are very comfortable to sit on and very versatile in terms of design. Read more here about the advantages of the materials Duroplast and Thermoplast.
Stability and flexibility
What makes a stable toilet seat?
A good toilet seat needs to feel not just comfortable to sit on but also stable. Our high-quality, hard-wearing hinges and installation solutions ensure that, even after many years, the toilet seat will still sit as firmly as it did on the first day. Thanks to our modular system, different toilet seats, hinges and installation solutions can be combined to reliably meet individual requirements. Our toilet seats are compatible with almost all the standard models of reputable toilet manufacturers. Furthermore, thanks to special hinges, they can be adjusted to fit special dimensions. Read more here about our different hinges and installation solutions to make your toilet seat reliably stable.
Design
What should you look out for in the design of a toilet seat?
Aesthetics and design mostly depend on individual preferences. While some prefer something prominent and colourful, others prefer a modern, minimalist style. A good toilet seat will suit the taste of the buyer and can be integrated harmoniously into their bathroom. Thanks to our extensive range of models, we can offer toilet seats in different shapes and colours to meet different needs. Let yourself be inspired by our variety of products. Especially when it comes to toilet seats, though, it's important that function and comfort are not sacrificed for the sake of design. We know this at Hamberger Sanitary. This is why we follow a holistic design approach in the development and production of our toilet seats. This combines aesthetic requirements with a comfortable feel, ergonomic shape, perfect comfort and technological finesse.
Quality counts!
All these factors only make for a good toilet seat if it also lasts for a long time. Because there is nothing more annoying than when you find the right toilet seat and then, after just a short time, the hinges start to wobble, the colour fades, the surface gets rough, or the automatic closing system stops working as well. Thanks to our uncompromising quality management, we guarantee the durability of our toilet seats as well as their comfort features, stable hinges, the materials used and the design. Learn more about our quality management here.

A good toilet seat is a toilet seat that is right for your customers and their needs. We are able to cater to individual requirements thanks to our large selection.