Model overview
Welcome to the world of Hamberger Sanitary toilet seats
Our premium toilet seats turn bathrooms into oases of well-being. Because our toilet seats leave nothing to be desired! They meet all your customer's requirements, and impress with
how comfortable they are to sit on, their practical convenience,
comprehensive hygiene,
modern design,
best materials, quality without compromise, as well as
their easy installation and reliable hold.
Europe's

largest range of models

No matter the requirements and preferences – at Hamberger Sanitary, we can offer you and your customers the perfect toilet seat. With nearly 300 different models of high-quality toilet seats, we have developed Europe's largest range of models for wholesale, DIY stores and industry customers, and a practically infinite range of products. Take a look at a few of our versatile models.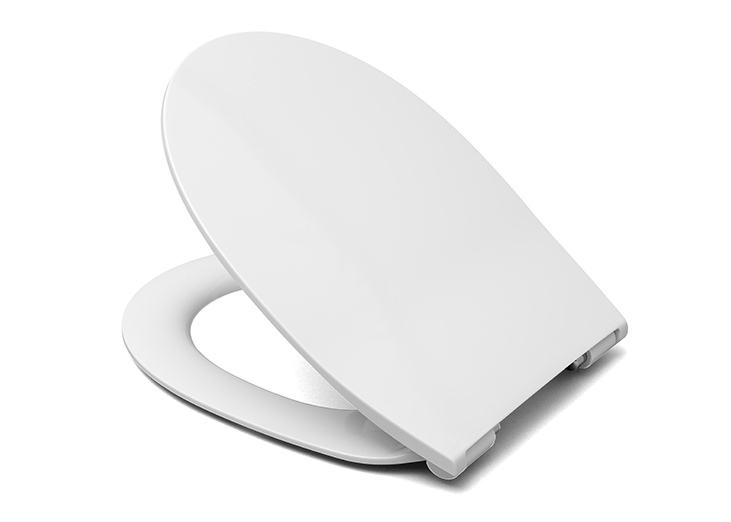 EVO
In our EVO toilet seat, playful lightness meets simple elegance – perfect for aesthetes.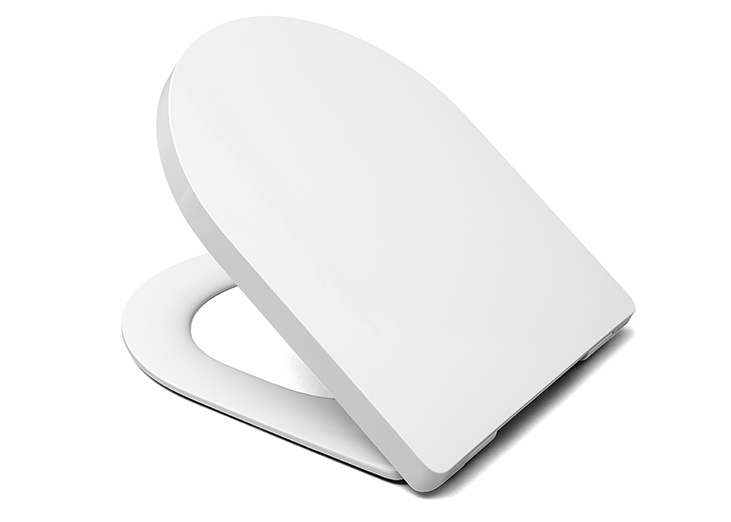 EOX
An on-trend combination of minimalist design and a modern D-shape: Our EOX toilet seat model.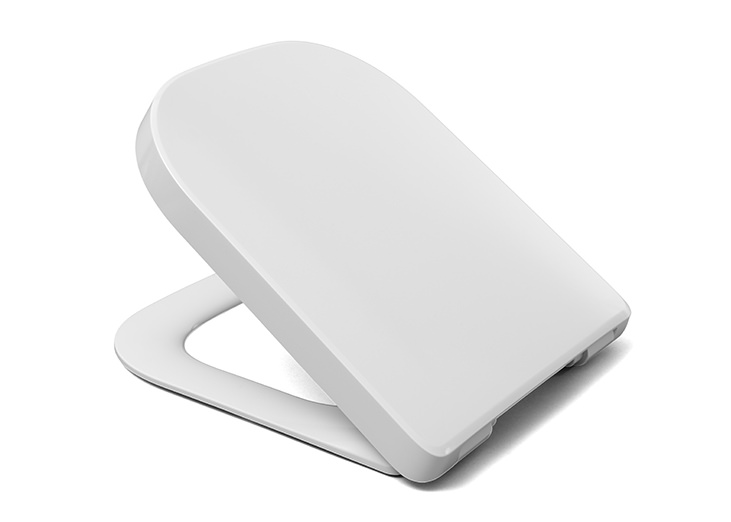 DANTE
Our square toilet seat DANTE impresses with its striking design.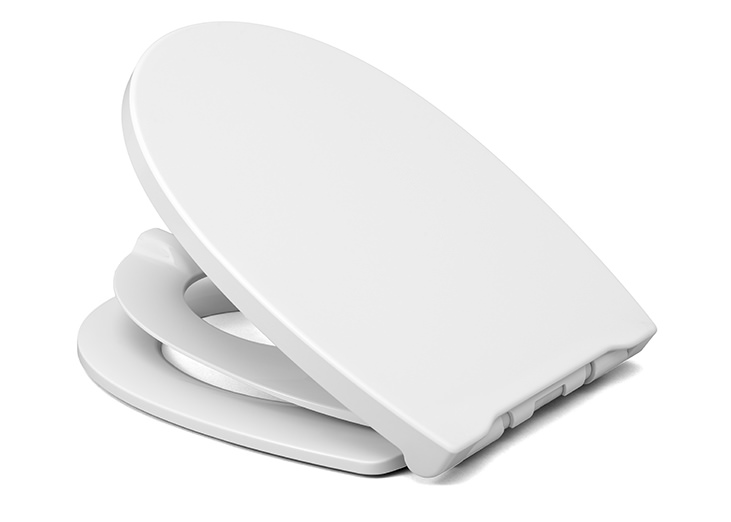 COMINO FAMILY
Thanks to the combination of a seating ring for adults and a small seating ring for children, our family toilet seat COMINO FAMILY is perfectly suited to family bathrooms.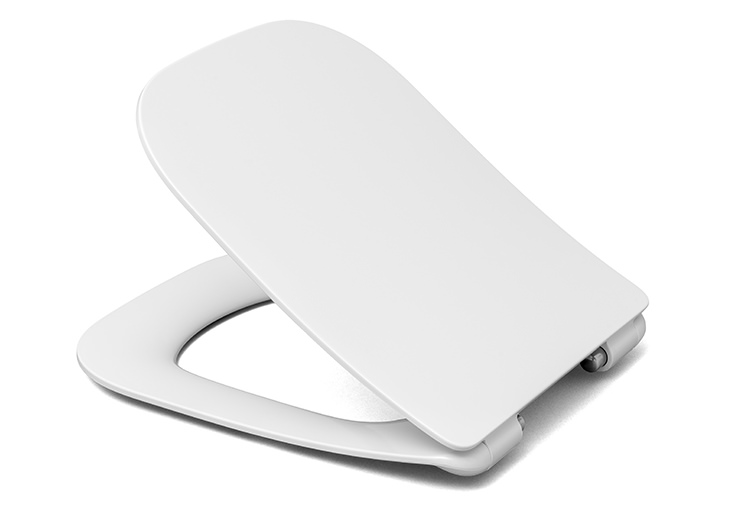 SANTORIN
For people who like things angular: Our toilet seat model SANTORIN with an unusual design.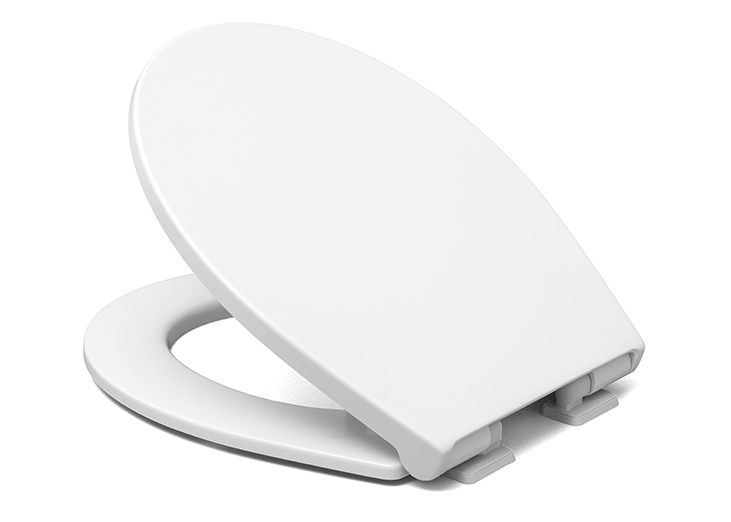 PICCO
The classic toilet seat: Our PICCO model. Perfect for entry-level pricing with our new SoftClose® pure hinges.
FJELL
With its pointed shape, our toilet seat FJELL is particularly popular in Scandinavia.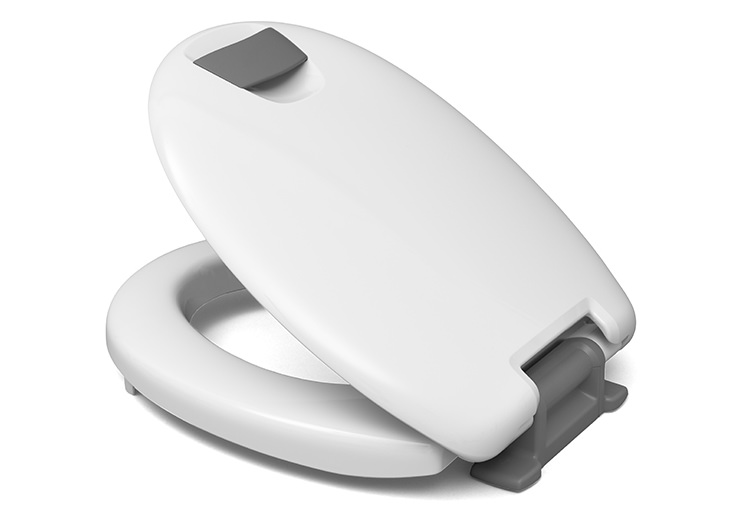 HAROMED
Our raised toilet seat HAROMED offers a higher seating position as well as a comfortable sitting angle, and is especially suited to seniors. More on our CareLine.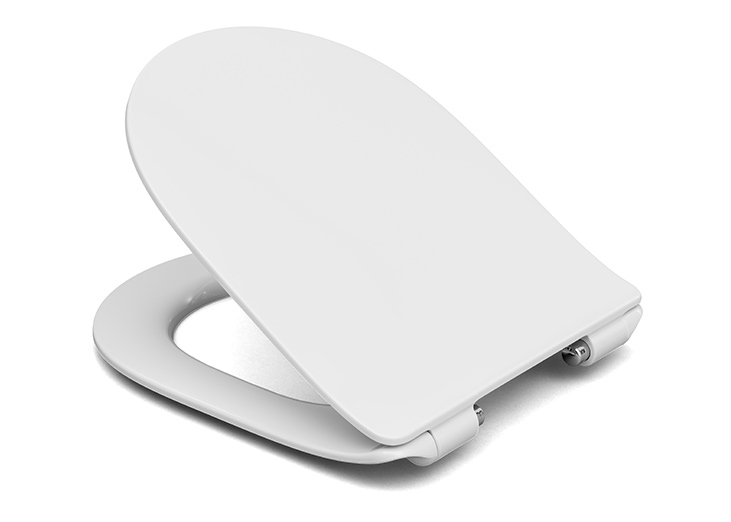 RAY
Our model RAY impresses through its dynamic, striking look with a gently curved lid.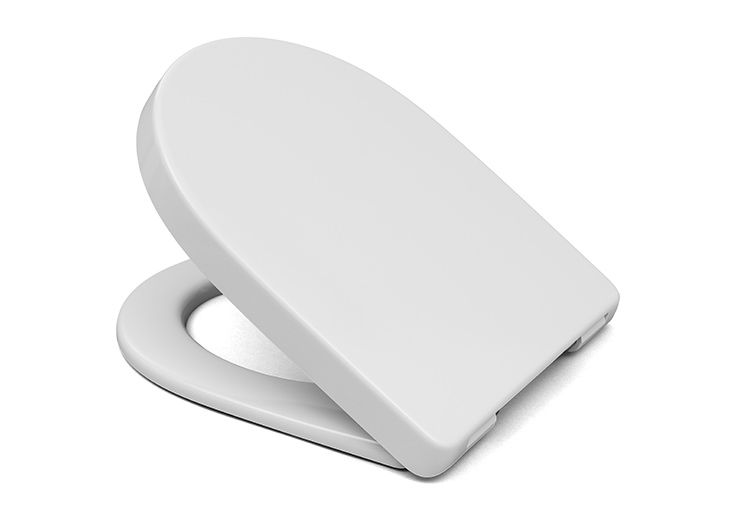 SAMAR
A simple classic that is sure to impress: Our SAMAR toilet seat.
Made of the materials Duroplast or Thermoplast, with SoftClose® or TakeOff® technology, oval, square or D-shaped, and therefore classically elegant or purely modern, and in just the right colour to suit the bathroom ambience. We have the perfect toilet seat for every ceramic, for every use and for every taste.
This is true not only for new purchases, but also when the toilet seat needs to be replaced: We guarantee the long-term availability of our products through specialist sanitary equipment retailers and selected DIY markets.

As Europe's largest manufacturer of toilet seats, we work with the most well-renowned representatives from the sanitary equipment industry, wholesale and the DIY sector. You too can benefit from our many years of experience as a reliable partner for industry and trade as well as the outstanding reputation of our toilet seat brand for wholesale, HARO, and our brand for DIY stores, Cedo. We are also happy to work with you as an OEM manufacturer so we can develop your projects in excellent Hamberger quality together.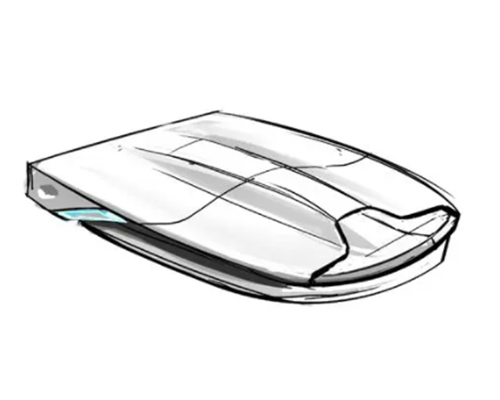 Our promise:
perfection in all areas
Toilet seats are our passion; the satisfaction of your customers is our goal. This is why we guarantee that we make no compromises in the development and production of our toilet lids. We always demonstrate perfection in the following areas – for you and your customers.
With our high-quality toilet seats, we contribute to comfort in every bathroom: Alongside the ergonomic shape of our toilet seats, our patented comfort solutions are particularly persuasive: Our SlowClose automatic closing system facilitates the quiet and comfortable closing of the toilet lid with just the tap of a finger. At the same time, our practical TakeOff® feature makes hygiene child's play: remove, clean, and re-attach! Special hinges enable the removal and attachment of the seat and lead with just one hand, and without the need for any tools.

Read more here about our practical toilet seat features for even more convenience in the bathroom.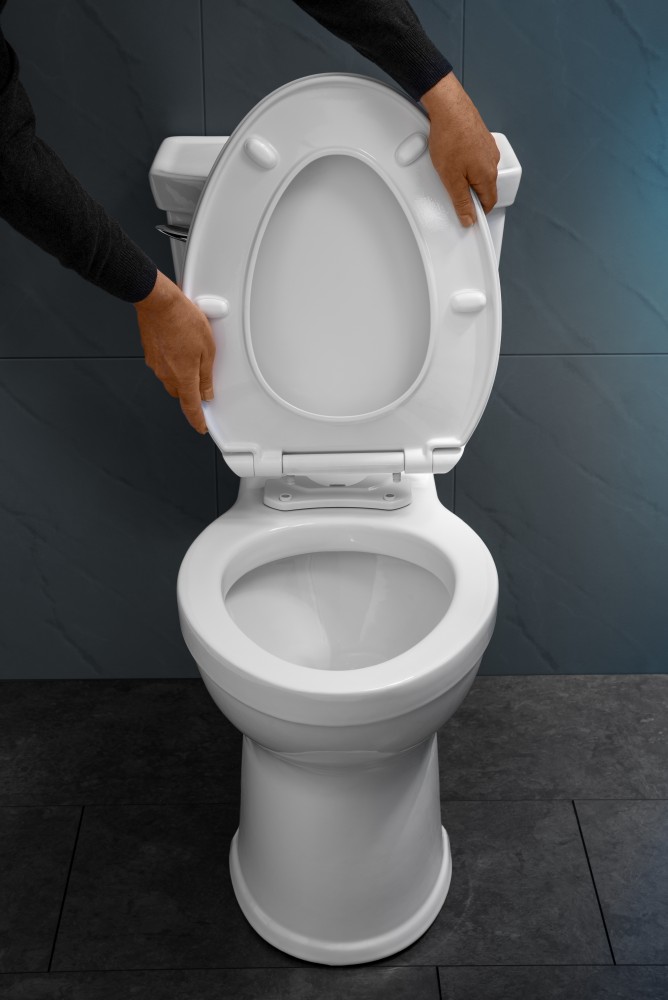 TakeOff® feature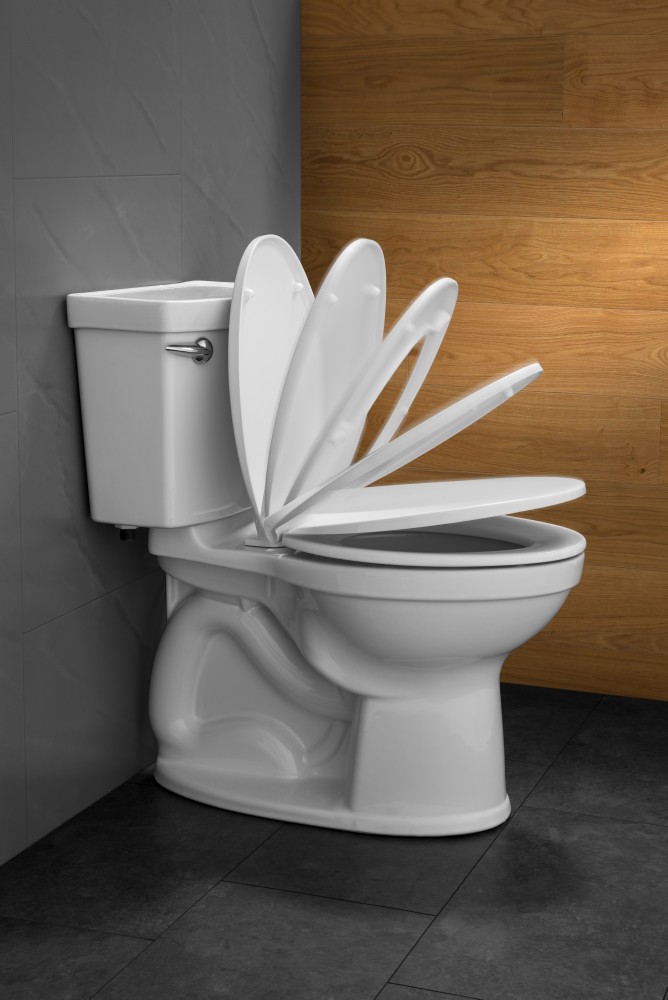 SlowClose automatic closing system toilet seat
Easy hygiene, skin-friendly surfaces and environmentally-friendly material
Thorough hygiene is easy with our Hamberger Sanitary toilet seats. The non-porous and extremely smooth surface of our toilet seats is not only easy to clean and take care of, it also has antibacterial properties. Our patented ACTIVE SHIELD®in our CareLine models provides added preventative hygiene. The antibacterial seat surface protection prevents the formation and spread of gems and bacteria.
Of course, the surfaces of all our toilet seats are skin friendly. Our toilet lids also contain no environmentally hazardous substances; instead, they will impress you with their good life cycle assessment.

Learn more here about our ACTIVE SHIELD® and our CareLine models, as well as about the antibacterial effect of the materials from which our toilet seats are made.

Our demand for the perfect toilet seat does not end with the uncompromising quality or the convenient features. Our toilet seats are also always a visual highlight. This is why current trends from architecture are incorporated into the design process of our toilet lids. The result: A perfect interplay of design and ergonomics that has already been distinguished with prestigious design prizes.
With our practically infinitely large colour palette and choice of decorations, we are also happy to realise individual customer desires.

Let yourself be inspired by the design of our toilet seats.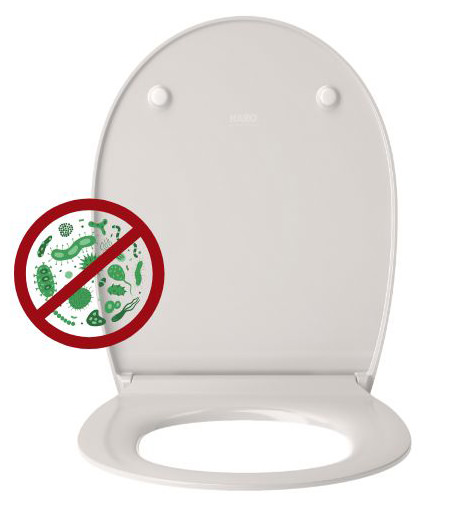 Quality without compromise
We make no compromises when it comes to the quality of our toilet seats – neither in the materials we use, nor in the processing.
We manufacture our lids and seats from the high-performance materials Duroplast and Thermoplast. To guarantee their quality, we conduct certified material testing and inspection. We manufacture our hinges, dampers and buffers from stainless steel or hard-wearing plastic. Apart from that, we subject all toilet seats to strict load tests and breaking tests as well as the most exacting final inspections.

Convince yourself of our quality management by reading more about the high-quality materials from which we manufacture our first-class toilet seats.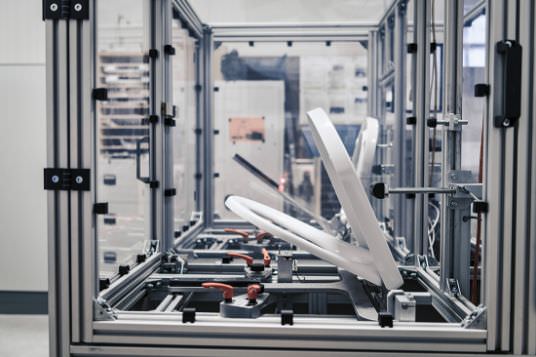 Perfect fit and reliable hold
You can rely on us – and on our high-quality hinges and reliable installation solutions: Thanks to our innovative modular system, problems with fittings are a thing of the past! Because our large range of hinges holds the perfect installation solution for any toilet shape. With Europe's largest range of models, we are able to have the right toilet seat available for nearly all common toilet ceramics.

Learn more here about our high-quality hinges and installation solutions made in-house.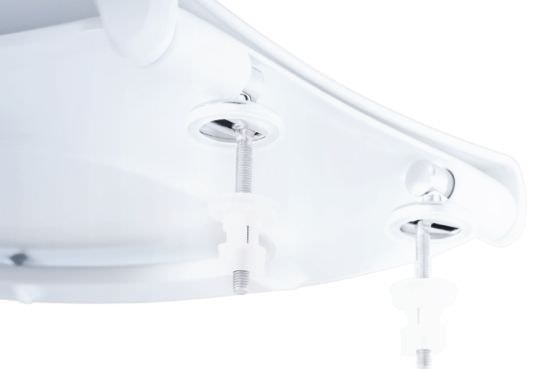 Comprehensive advice and support
The perfect toilet seat for every demand – we will help you find exactly the model you need. We would be happy to support you through your entire project with a personal consultation. Our capable employees from the wholesale, OEM and DIY departments are always available to help you.

If you have found the perfect toilet seat, we guarantee the quick processing of your order and the most reliable delivery thanks to our site in Germany.

Toilet seats from Hamberger Sanitary stand for outstanding functionality and quality without compromise, award-wining design, easy hygiene, and reliable stability. With Europe's largest range of products, we meet the requirements and fulfil the wishes of all customers who want more than just a toilet lid.