Material
The right material for the best toilet seats
Quality, feel and design – these may well be the most important qualities of a toilet seat. To this can be added easy cleaning and stable attachment of the seat to the toilet. All these qualities are significantly influenced by two central components: the material and the technical know-how to use it optimally.

For our toilet seats, we only use what meets our uncompromising standards.
High-quality Duroplast or Thermoplast for our toilet seats and lids,
corrosion-resistant V2A stainless steel and stable plastics for our hinges and installation solutions, and
highly fibre-reinforced plastic for the dampers of our SlowClose® automatic closing system toilet seat.
In the choice, procurement and processing of our high-quality materials, we make no compromises. We even subject the raw material to strict quality controls. The workmanship happens almost exclusively in fully automated processes.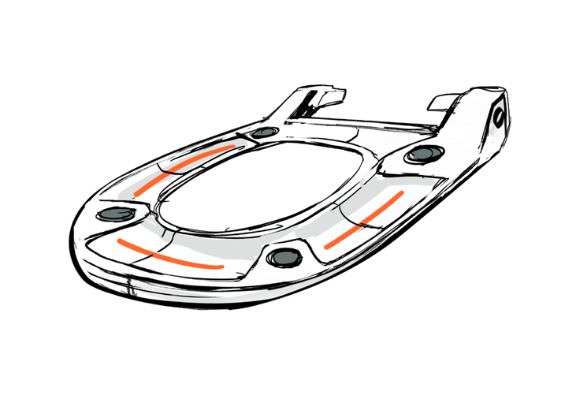 Our Hamberger Sanitary toilet seats contain no environmentally hazardous substances and are also extremely skin-friendly. Our Duroplast seats have a good life cycle assessment: One third of them consists of the renewable resource cellulose, and they have an impressively long life span. Our seats made of Thermoplast are completely recyclable.
We also use excess material sensibly: For example, to manufacture our installation key, we use recycled scrap material from our toilet seats. Apart from this, because of Urea Duroplast's high degree of hardness, batch rejects and old seats can be sent for recycling as high-quality abrasives for paint stripping.
Thanks to the processing of break-proof materials in stable quality, our Hamberger Sanitary toilet seats are very hard wearing, durable and long lasting.
Our toilet lids are easy to clean. Their smooth and non-porous surfaces provide the best conditions for optimal hygiene. Read more here about the ideal maintenance of our Hamberger Sanitary toilet seats.
Our
ACTIVE SHIELD®

surface protection provides preventative hygiene in our CareLine models.

Toilet seats made of
Duroplast

and

Thermoplast

Whether in a modern D-shape or a timeless oval, whether restrained or in bright colours, with or without automatic closing system – all our toilet seats are either made of stable Duroplast or break-resistant Thermoplast. At first glance, there is barely a difference between the toilet lids. It usually only becomes apparent from which material they are made on closer inspection or by using the toilet seat. But how do the two toilet seat materials differ in detail?
Resilience: Both materials are very stable, durable and resistant to external factors. Lids made of Duroplast are impressive for their high scratch resistance. Toilet seats made of Thermoplast, on the other hand, are practically unbreakable.
Value: Because of their high-gloss surface, duroplastic synthetic materials have a more valuable appearance than models made of thermoplastic synthetic materials. The latter are less costly to produce.
Hygiene: Because of the smooth surface structure of both materials, thorough cleaning is easy. The non-porous surface of toilet seats made of these materials also have antibacterial properties.
Seating comfort: Both materials offer a high level of comfort. Thermoplastic toilet seats, however, feel softer and warmer to sit on.
Where to use them: Toilet lids made of Duroplast are more suited to private use in the home bathroom and toilet. Seats made of thermoplastic synthetic material, on the other hand, usually find use in highly frequented toilets, such as in the hotel and catering industries.
Design: Both materials can be formed into any shape desired, and can be made in a wide range of colours. Read more here about our holistic design approach in the development of our toilet lids.
Sustainability: Duroplast seats consist to a large extent of the renewable raw material cellulose, giving them a good life cycle assessment. Thermoplastic seats consist completely of polypropylene, so they can be recycled easily.
From the natural material wood to robust synthetic materials
When we started producing toilet seats in 1912, our toilet seats were made exclusively of wood. Forty years later, however, we chose to buy toilet seats made of polypropylene and plastic. Since 1988, we have been manufacturing toilet seats out of duroplastic synthetic materials ourselves. In the year 1999, we expanded our range with toilet lids made of thermoplastic synthetic materials.
But what are the benefits of synthetic materials in comparison to the raw material wood?
As well as feeling soft and warm to sit on, back then, the unique surface grain of toilet lids made of wood was particularly appealing. But the seats made out of this natural material also had disadvantages: They were always harder to maintain, more limited in their design, prone to microorganisms, and much more expensive to produce. Toilet seats made of plastic offer new and unique advantages, ranging from design freedom through to the highest hygiene standards.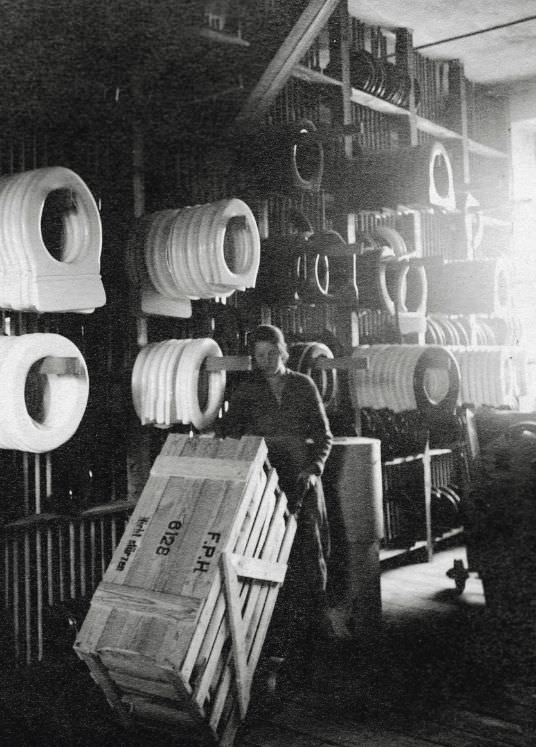 The chemistry of toilet seats
Decisive in the differences between toilet seats made of thermoplastic and thermosetting synthetic materials is their chemical structure. Different synthetic materials are classified as thermoplastics, duroplastics and elastomers according to their chemical structure as well as their physical properties. The following mechanical properties play a central role in the production of our toilet seats:
High stability, elasticity, and resistance to breaking,
hardness and scratch-resistance, and
smooth and hygienic surfaces.
According to the chemical definition, thermoplastics, duroplastics and elastomers are what is known as polymers. This means the combination of many small molecular building blocks, also called monomers, into a very large molecule. Polymers are made up of many chain-shaped macromolecules with or without cross-links. The arrangement and combination of these macromolecules is decisive for the differences between the two materials, and for the different properties of the toilet seats. Elastomers are not suitable for toilet lids because of their elastic structure.

The central difference between duroplastics and thermoplastics is their behaviour at high temperatures. The former only melts once: after hardening, its shape does not change even at high temperatures. In contrast, thermoplastics can be melted again at certain temperatures and repeatedly reshaped as desired.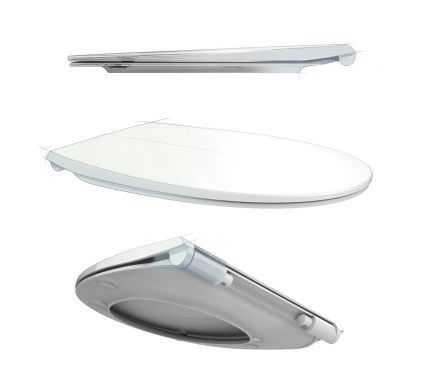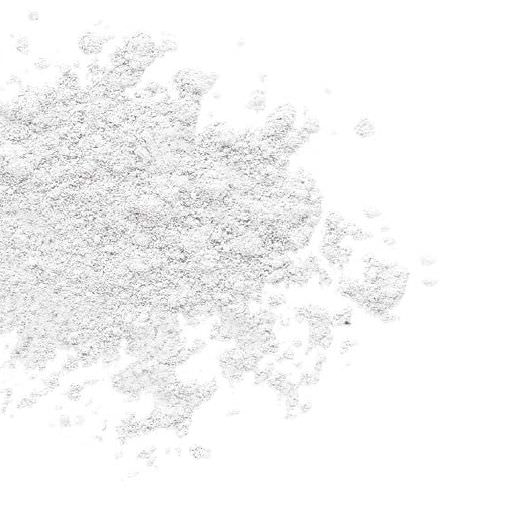 Quality right down to the smallest detail
Our hinges and installation solutions along with the dampers for our automatic closing system toilet seats also come from our own production. We only ever use first-class materials for them, too. Our hinges, for example, are made predominantly of corrosion-resistant V2A stainless steel. Alongside the stainless steel hinges, we also make installation solutions out of high-quality plastic. With our large selection of installation solutions, our toilet seats fit all standard toilets. For our patented SlowClose® damper, which is integrated into our hinges with the automatic closing system, we use a special high-strength plastic.

Read more here about our large selection of different hinges for strong hold and easy installation.
Learn everything about our automatic closing system and the other convenient features of our toilet lid here.

A comfortable feel, easy hygiene and a modern design that suits the toilet and bathroom – that's what customers want from a new toilet seat. With our high-quality products, you can offer your customers exactly that and find the right lid for any toilet. This is because, thanks to our uncompromising quality standards, we use only the best materials in the production of our toilet seats.