Care recommendation
How to take care of your toilet seat properly
Once you have found the right toilet seat, you will of course want to keep it for as long as possible. Thanks to our uncompromising quality management with respect to materials and processing, our toilet lids are impressive for their above-average durability. But the right maintenance and careful treatment of the seat and lid also play an important role.

So that you can enjoy your toilet seat for a very long time, we provide you with helpful recommendations on toilet seat cleaning and answer the most important questions on this topic.
How do I clean the surface of a toilet seat properly?
Clean the surfaces of your toilet lid and seat with a damp sponge or a cloth and only use neutral soap or mild and natural standard household cleaning products. Use clean water and a soft cloth to wipe the surfaces after cleaning so that no residue remains on the toilet seat and lid. Do not use any abrasive, chlorinated or acidic cleaning products. These can cause discolouration and paint peeling off the seat and lid, or rust forming on the hinges.

The major advantage of our toilet seats made of duroplastic and thermoplastic synthetic material is the smooth and non-porous surface, which does not provide a breeding ground for bacteria and germs, is water repellent, and very durable. This means our toilet seats offer the best conditions for easy and optimal hygiene.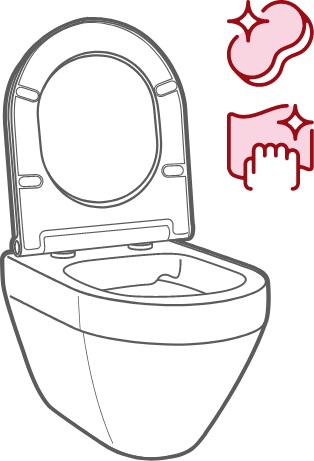 How do I clean the hinges on my toilet seat properly?
Just like our toilet seats, our high-grade hinges also meet our quality requirements. With regular and correct cleaning, we therefore guarantee that you can rely on their durability, too.

Cleaning our hinges made of metal and plastic is also relatively uncomplicated. Just put some standard window or alcohol-based cleaner on a cloth and go over the hinges with it. Wipe them with clean water afterwards and then with a dry cloth. If stubborn stains remain on the hinges, you can remove them with a vinegar-based cleaner using a small cleaning brush or an old toothbrush. Again, wipe them with clean water afterwards and then with a dry cloth. Otherwise, the acid in vinegar-based cleaners can cause the hinges to rust.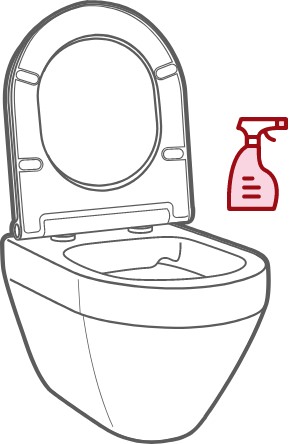 Our tip for easy cleaning:
Toilet seat with practical TakeOff® feature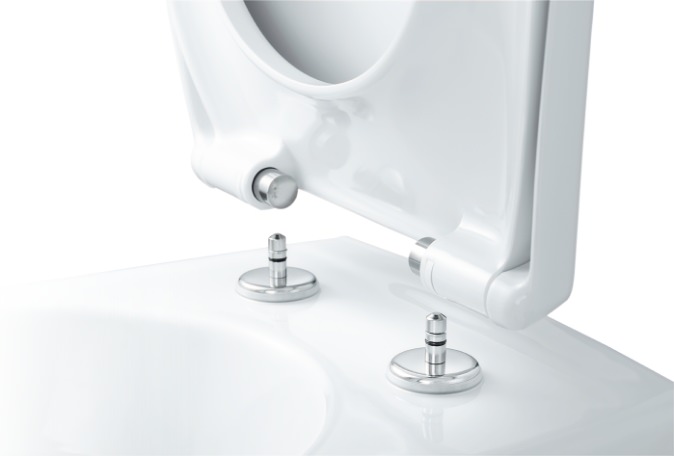 Our TakeOff® feature makes toilet seat cleaning particularly easy and convenient. Thanks to the special hinges, the toilet seat can be removed with just one hand and re-attached just as easily. This means that you can clean hard-to-reach places more easily, both on the toilet seat and the toilet itself. For example, the lid and seat can simply be put under the shower.

During the removal and attachment, make sure you use the right method: Bring the whole toilet seat, i.e., the lid and the seat, to an upright position (90°), release the locking (if relevant) and lift the toilet seat together with the lid directly and evenly upwards. After cleaning, you can re-attach the toilet seat in the same way.
You can learn more about our toilet seats with the TakeOff® feature in our explanatory video.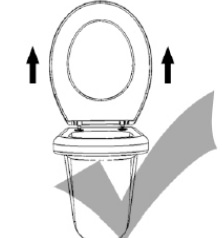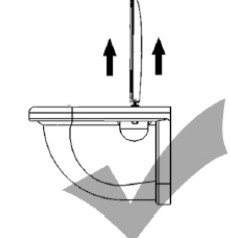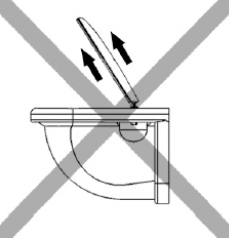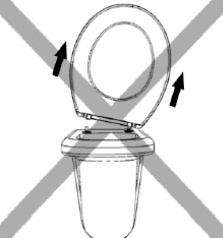 How do I protect my toilet seat?
Cleaning your toilet seat correctly and regularly not only protects it from dirt, germs and bacteria, it also has a big impact on the toilet lid's durability. But when it comes to the question of how long you can keep using your toilet lid without experiencing problems, gentle use of the seat and lid also plays an important role.

After all, a household object like the toilet seat is exposed to various strains in everyday life.

When using: You're not paying attention, and the toilet lid lands on the toilet with a slam. This is not just loud and unpleasant, it can also damage the toilet seat and ceramic. Protect your seat and toilet with our toilet lids with integrated SlowClose®automatic closing system. Thanks to this, our toilet lids close quietly, gently and automatically with just the tap of a finger. So you can keep using the SlowClose® function for a long time, never forcibly press down the toilet seat or lid. This can cause damage to the automatic closing system. Read more about our convenient SlowClose® automatic closing system here.

When cleaning the toilet: Even if, as recommended, you only use neutral soap or mild household cleaning products to clean your toilet seat, the toilet seat can come into contact with more aggressive products through the cleaning of the ceramic. If this happens, make sure you remove them with a wet cloth as quickly as possible. You should also leave the seat and lid upright while stronger cleaning products are in the toilet bowl.

We do everything we can to ensure you can enjoy your new toilet seat for a long time: During the production of our toilet lids, we process high-quality and environmentally friendly materials in state-of-the-art, precise processes. In this way, we maximise the durability of all the components of our toilet lids.

You're responsible for the rest. Because regular and thorough cleaning along with careful use also have a major impact on the life of the toilet seat.