Our story
Our journey to becoming Europe's largest manufacturer of toilet seats
"We create quality of life" – and have been doing so for more than 100 years. This experience and our uncompromising quality standards have made us what we are today: Europe's largest manufacturer of toilet seats.

Thanks to constant innovation and strong market expertise, we always have our finger on the pulse. This is how we fulfil the wishes of our partners and customers.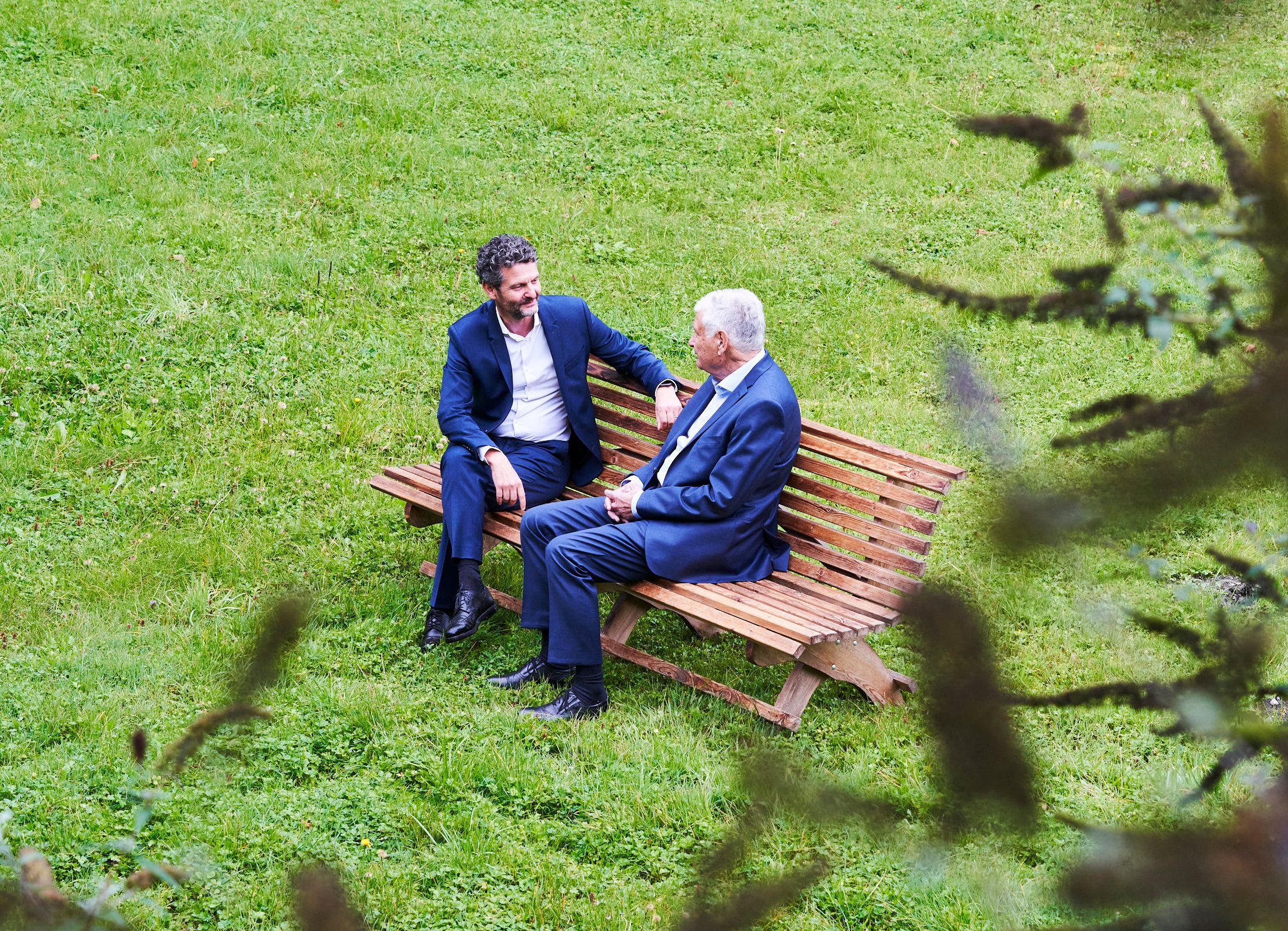 From small lavatory seat factory to innovative market leader
Our milestones
Chance marks the start of our success story. With our quality consciousness, our inventiveness and our spirit of innovation, we turned the former lavatory seat factory into an international company, which, 100 years later, is Europe's largest toilet seat manufacturer.
1912
THE START

OF OUR SUCCESSFUL

FAMILY BUSINESS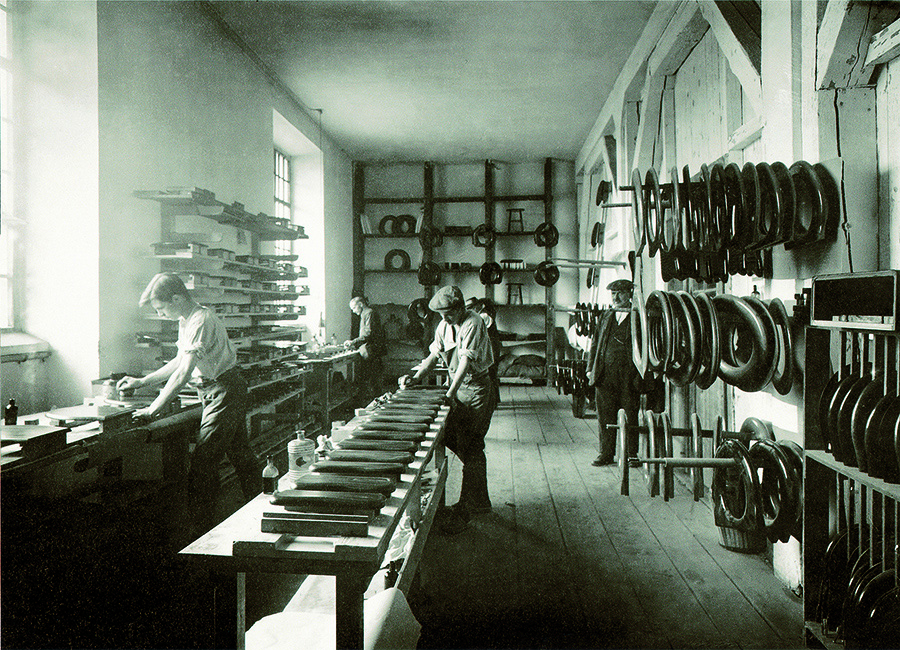 The origins of our lavatory seat factory is based on a happy coincidence. Because of a missed train, Anton Moralt from Bad Tölz offered to sell his lavatory factory not to a company in Bannenburg but to Franz Paul II and Max Hamberger. The manufacturing of wooden toilet seats was a perfect fit for the skills and approach of our family business. This is why the sale of the company was sealed with a handshake at the very first meeting. After relocating the entire production to Rosenheim, toilet lid output started in the same year.
The further expansion of our company followed the typical Hamberger style: logical, proactive and innovative. After the First World War, we continued to expand our product portfolio. More and more new models soon covered the entire demand spectrum.
1927
THE
HARO BRAND

IS BORN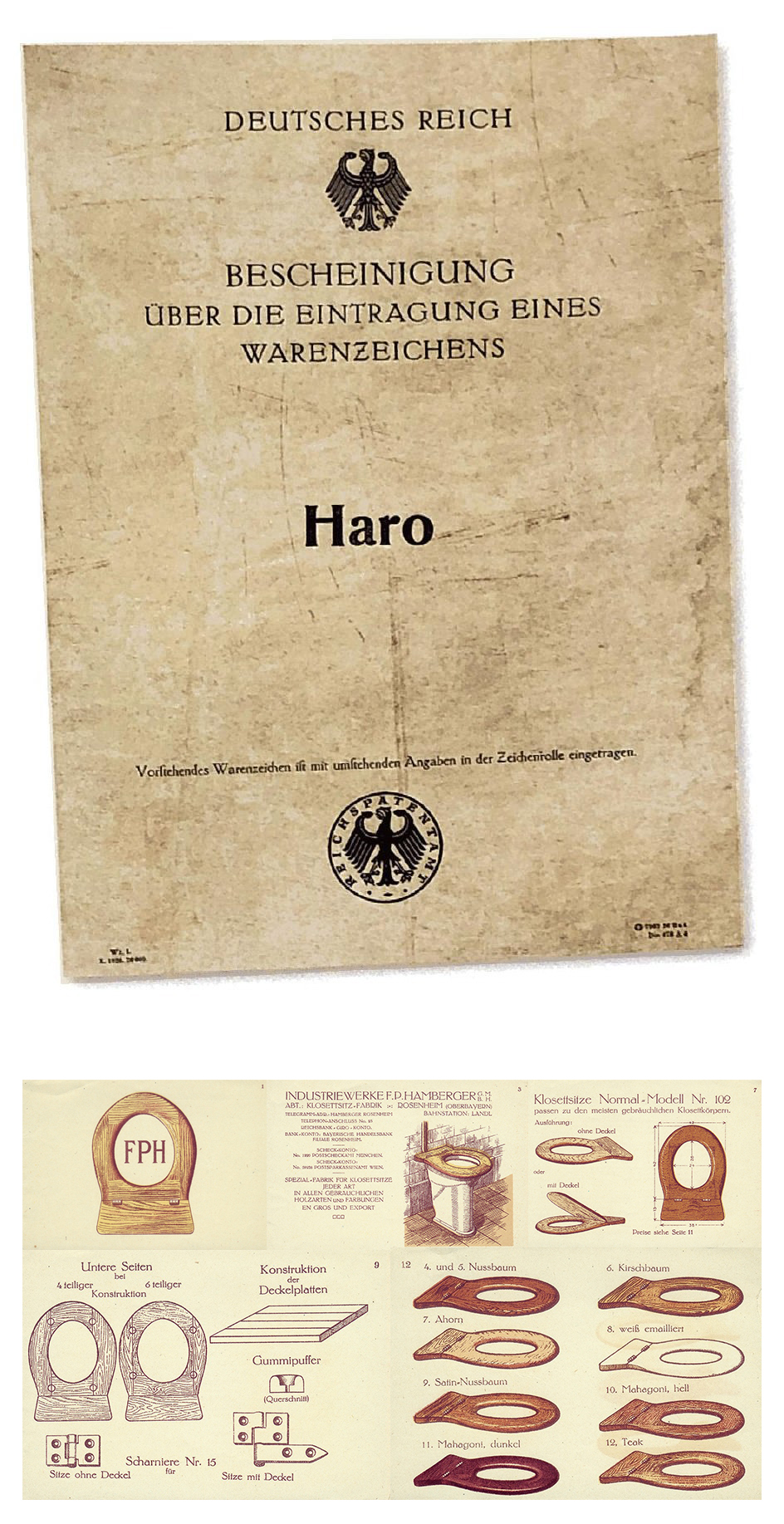 The 1920s were characterised by many innovations and the expansion of our product range. As a result, our company developed very successfully during this time: Sometimes we were producing more than a thousand toilet seats per day. We were also proactive when it came to marketing: In 1927, Franz Paul Hamberger II had the name "Haro" - a composite of Hamberger and Rosenheim - registered as a protected trademark with the German Reich Patent Office. And thus was born the brand that is now known around the world for its quality products made by Hamberger.
1952
HAROLIT

– THE HAMBERGER SANITARY TOILET SEAT

MADE OF PLASTIC

.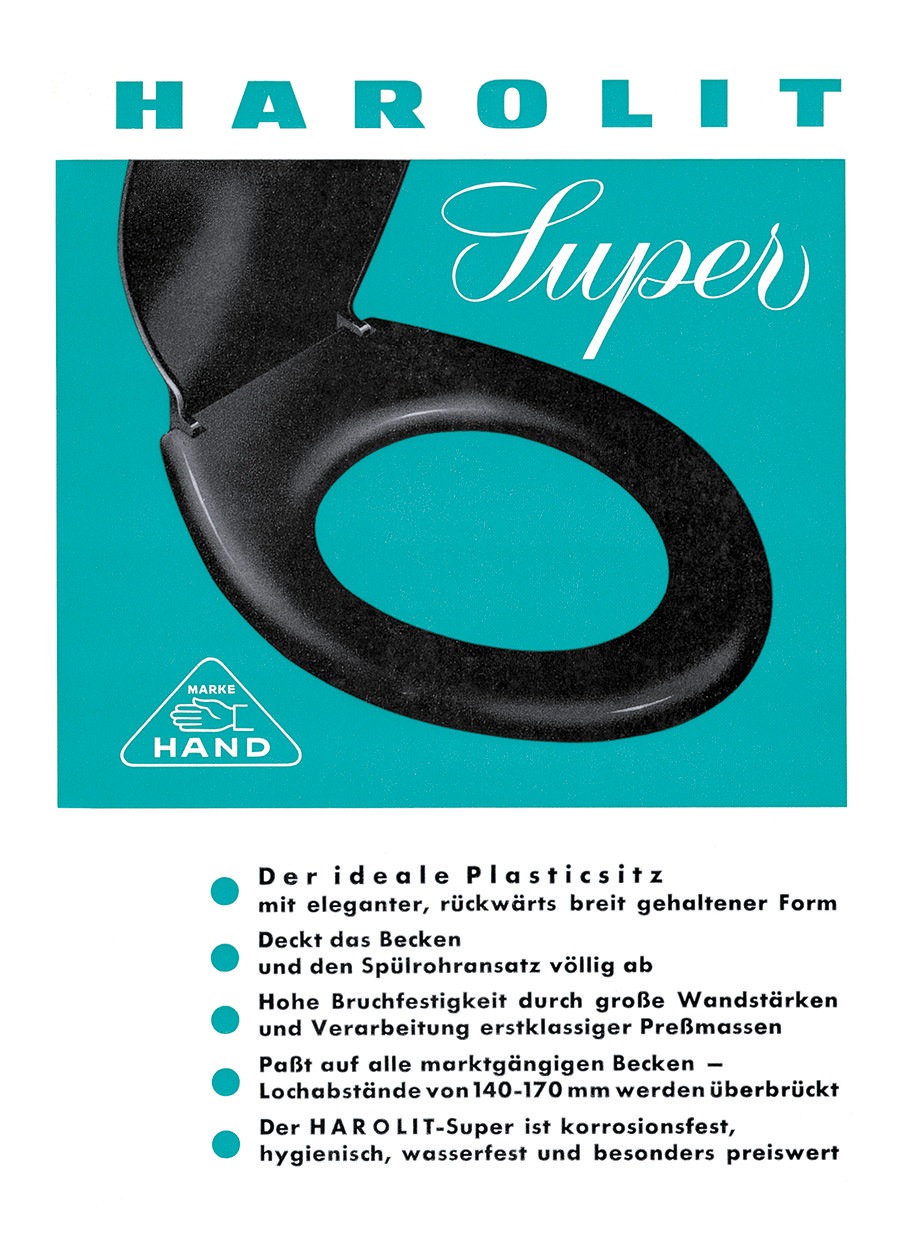 Toilet seat production received a major boost after the Second World War. Busines decisions under the direction of Max Hamberger II again ensured the strong growth of our company. Back then, we only had experience with wood. Despite this, in 1952, Max Hamberger II decided to buy in toilet seats made of polypropylene, which we marketed under the brand name "Harolit". We also acquired toilet seats made of Duroplast.
1955
HAROFIX

– THE INNOVATION MADE OF

SAWDUST AND SYNTHETIC RESIN
At the same time as we started to market toilet seats made of Duroplast, we also started producing toilet seats made of plywood. In 1955, we surprised the market with another major innovation: Following thorough product development, we launched the first jointless toilet seat, "Harofix", on the market. It consisted of a pressed sawdust-synthetic resin blend which was then varnished. We later expanded our product portfolio again with celluloid-coated seats.
1988
HAMBERGER SANITARY
TOILET SEATS MADE OF DUROPLAST
A good 30 years later, we decided to start in-house production of toilet seats made of Duroplast as well as buying them in. After many developments, the raw material exhibited favourable qualities in terms of its scratch resistance, durability, ease of care and hygiene. These have been pivotal in the production of our high-quality toilet seats. Today, this raw material still forms the basis of a majority of our toilet seats. This makes us the market leader in the Duroplast sector.
1995
NEW PRODUCTION SITE IN
ROHRDORF

, GERMANY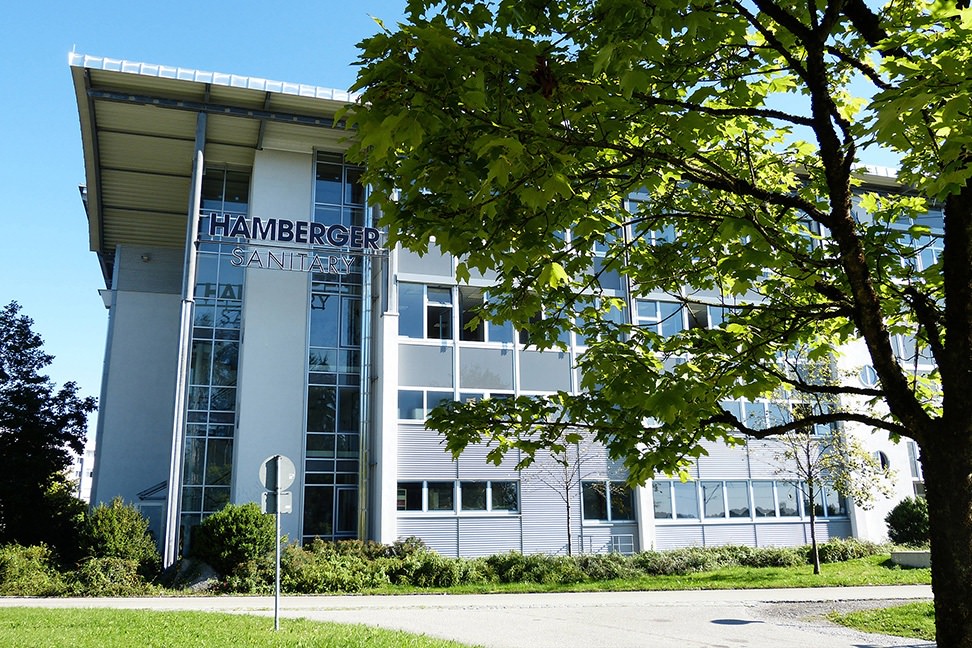 In the course of the following decades, our production numbers continued to increase. Because of this, we decided to move to a new location. In 1995, we established a new facility for the production of our toilet seats in the community of Rohrdorf, with a production area of 14,500 square metres. Starting out with 66 employees, the production of Duroplast toilet seats began there in 1996.
Since then, this location has also become home to our headquarters with global sales and marketing as well as the research, development and design centres.
1999
ADDITIONAL
UPTURN

THROUGH TOILET SEATS

MADE OF THERMOPLAST

.

We brought another product line onto the market in 1999 with high-quality toilet seats made of Thermoplast. Toilet seats made of polypropylene combine important qualities: high elasticity with reliable resistance to breakage, and favourable manufacturing costs resulting in a low sales price. This combination made our Thermoplast toilet seats attractive for a broad group of buyers and price-sensitive markets. Just two years after the introduction of the new product line, it became necessary to expand our factory in Rohrdorf. This was followed by major investments in logistics a year later.
2003
INTERNATIONAL EXPANSION

: HAMBERGER SANITARY IN SEVLIEVO,

BULGARIA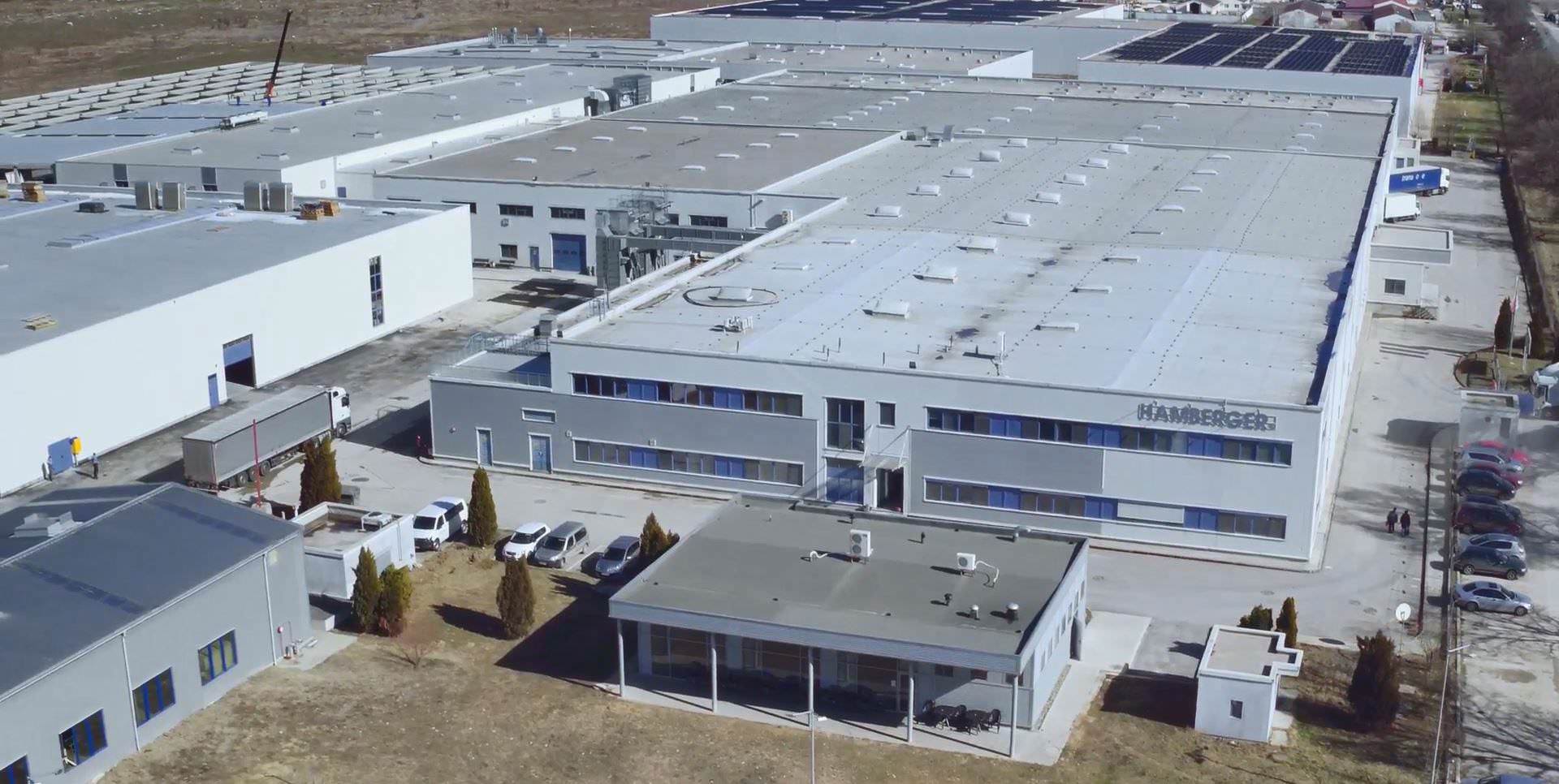 The sustained demand for our toilet seats motivated Peter Hamberger to take a big step in 2003. We established a new factory for the production of our toilet seats in Sevlievo, Bulgaria, and with it our first location abroad. Just a year after it went into operation, we expanded the factory.
2001
OUR
SLOWCLOSE® FEATURE

REVOLUTIONISES THE INDUSTRY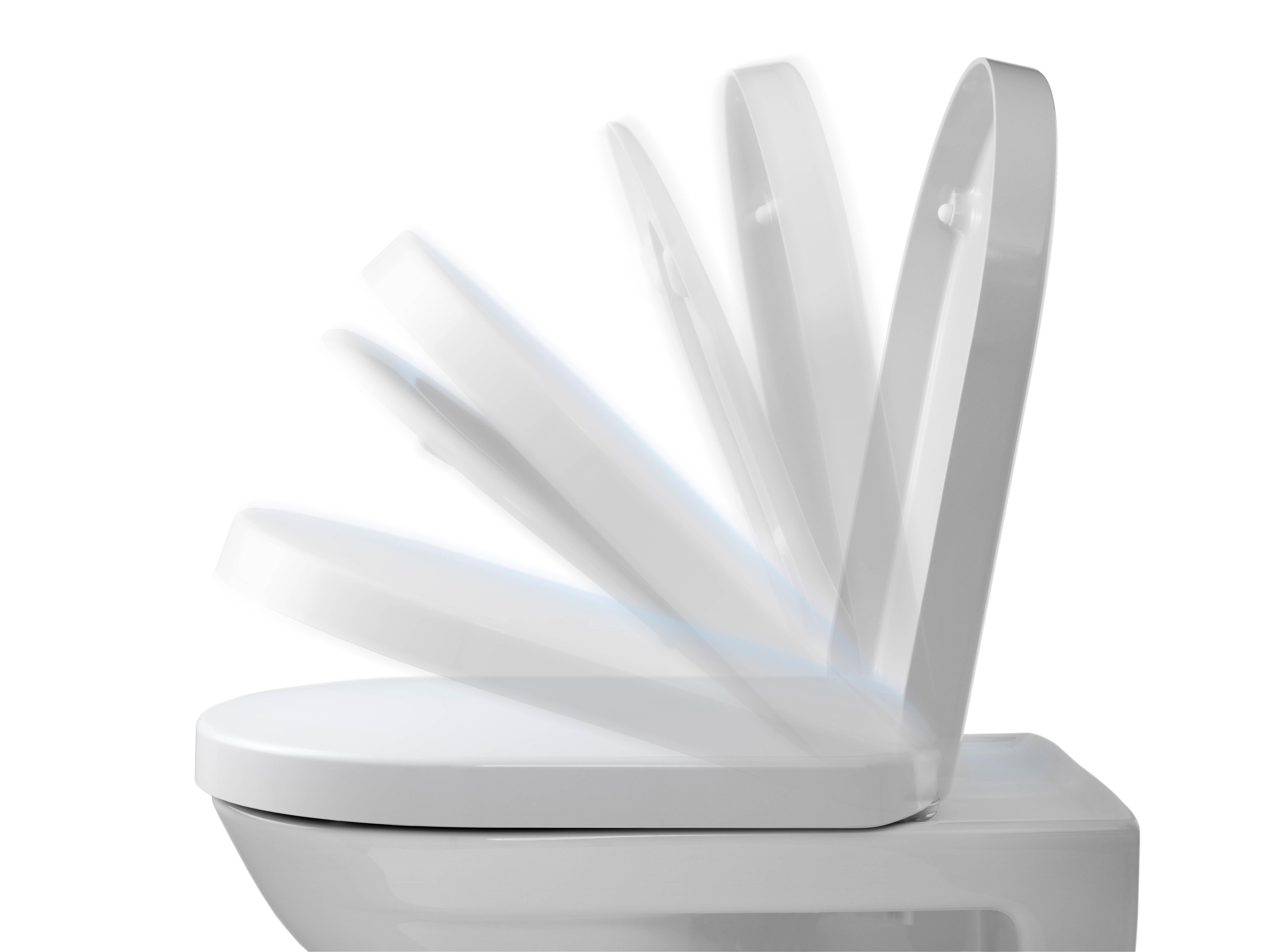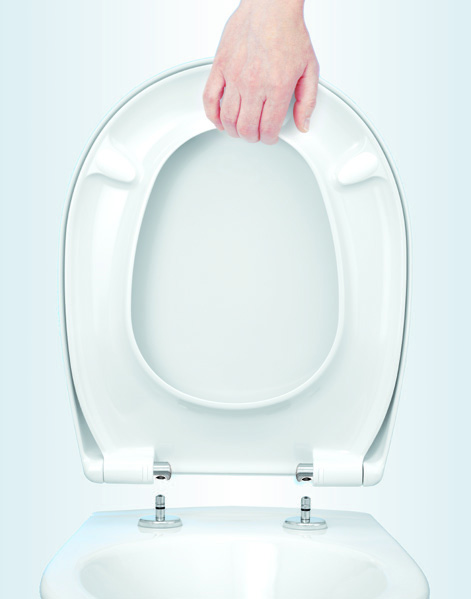 With the development of our patented SlowClose® automatic closing system toilet seat, in 2001 we set a new benchmark for increased toilet convenience: Our SlowClose® dampers, which are fully integrated into the seat, allow the lid to close gently and without a sound after just a light touch. Combined with our other comfort feature TakeOff®, our toilet seats really become synonymous with ease of use and easy cleaning.
2007
INNOVATIVE
HINGES

, MADE IN-HOUSE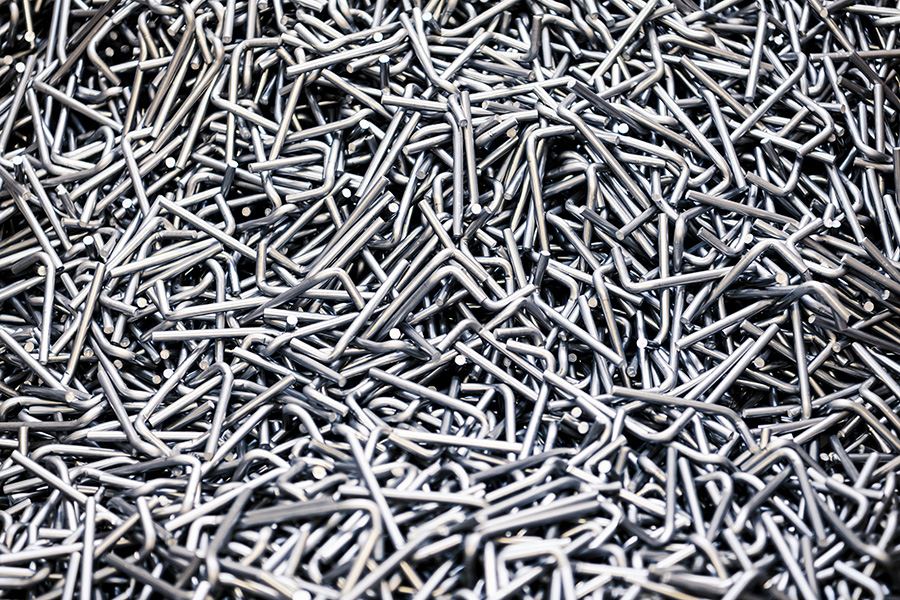 In the years that followed, it was not only our production numbers that constantly increased, but also the functional and technical demands on our toilet seats. The success of our SlowClose® und TakeOff® technologies lead us to expand our range of products in 2007. Since then, we have been developing and manufacturing all the hinges and installation solutions for our toilet seats in-house.
2012
MORE INTERNATIONAL EXPANSION

: HAMBERGER SANITARY IN KUNSHAN,

CHINA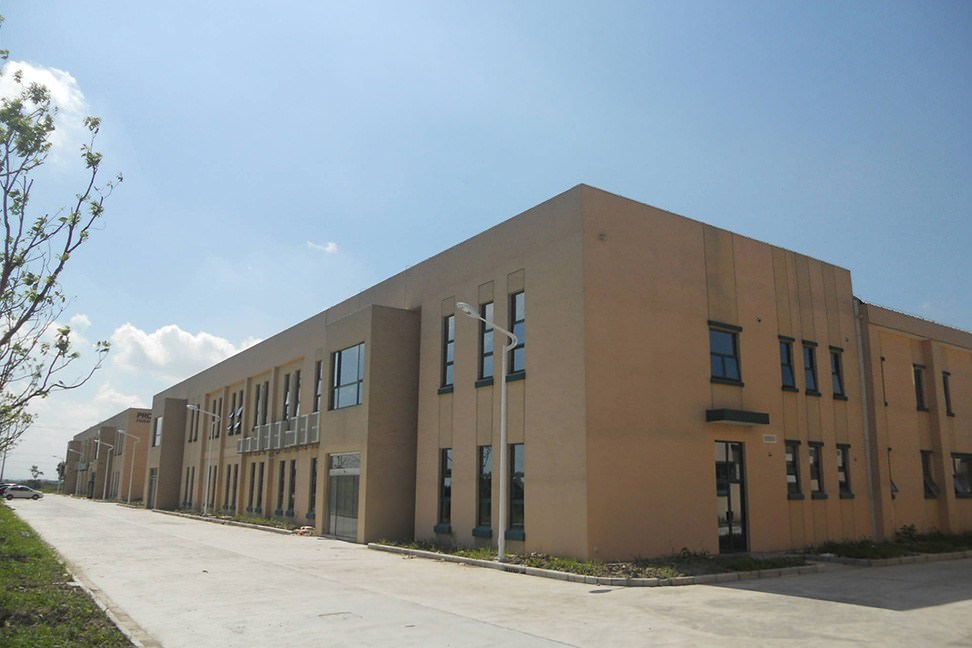 In 2012, more than a hundred years after toilet seat production began, our second international manufacturing company was established in Kunshan, China – Hamberger Sanitary Kunshan. Since then, we have been producing high-quality toilet seats in this facility on an area of 3,500 square metres, mainly for the Asian market.
2016
FULLY AUTOMATED
DAMPER PRODUCTION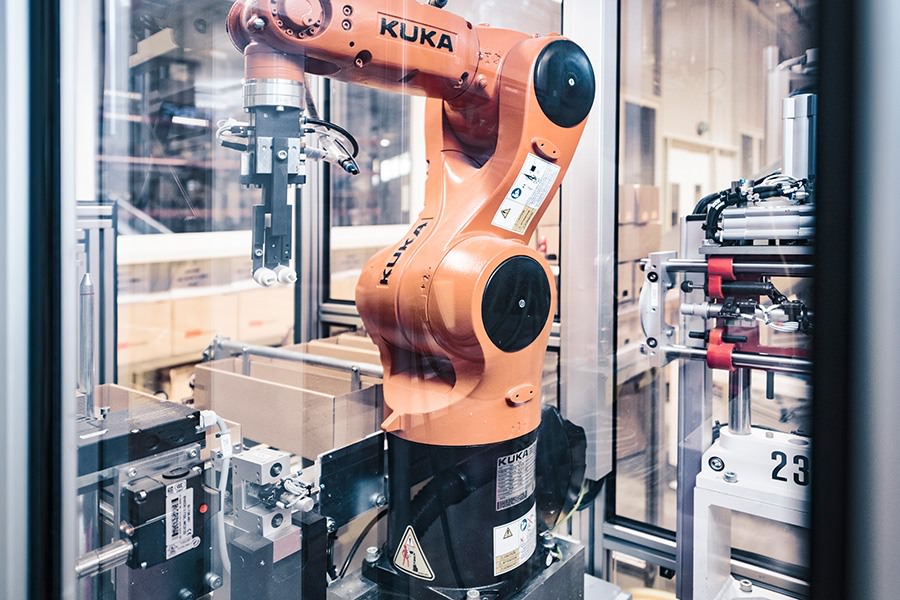 Since 2016, the production of our high-quality SlowClose® damper has been fully automated. Highly specialised tools and state-of-the-art test methods, which are also automated, guarantee the unvarying top quality of each individual damper.
2017
MODERN
PAINT SHOP

OPENS UP NEW POSSIBILITIES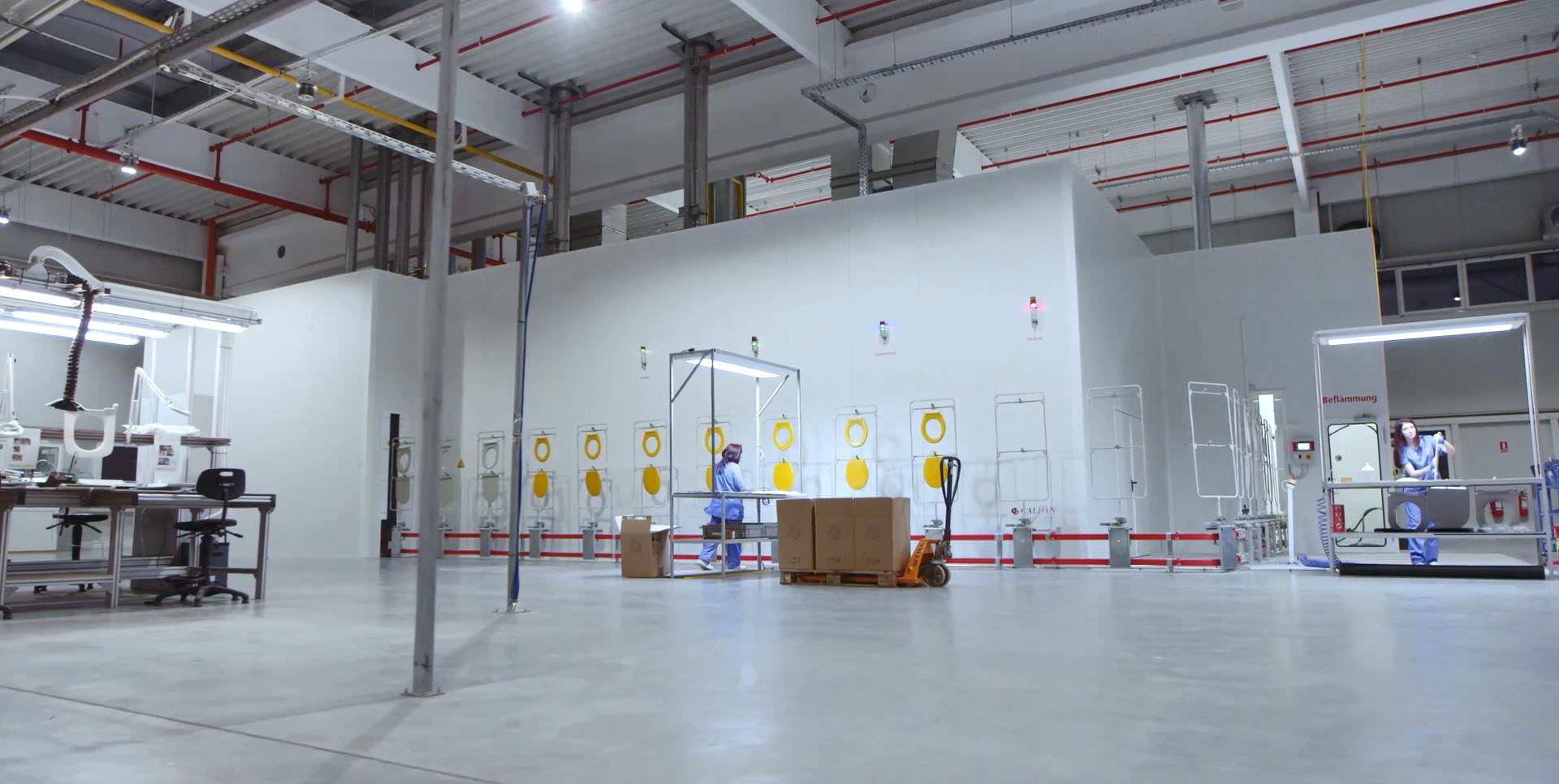 A cutting-edge paint shop in our factory in Bulgaria offers us new possibilities in toilet seat design. Not only can we realise an almost infinite spectrum of colours, we can also react to trends and customer requests at short notice and at the highest quality. "Setting trends – making ideas happen!" That's the motto here.
Today
HAMBERGER
SANITARY
Today, we at Hamberger Sanitary employ more than 1000 employees worldwide and produce around eight million toilet seats each year, making us the market leader for the whole of Europe. Our high-quality toilet seats are sold under the brand name "HARO" in specialist retailers and under the brand name "Cedo" in selected DIY stores. Furthermore, we produce toilet seats for globally active manufacturers of ceramic sanitary ware.

By the end of the 80s, exports already governed our product sales to a large extent. Today, the export share is over 50 per cent. To support further expansion in the North and South American markets, in 2019 we also established new sales companies in Brazil and Mexico.

We look back at the origins and development of our successful family business with pride. At the same time, we look to the future with excitement and optimism, and look forward to enriching the toilet seat market with further technological innovations, new designs, and small, refined details.